Atlas Air is to provide air transport services for Amazon in a deal that includes the lease of 20 Boeing 767s.
The long-term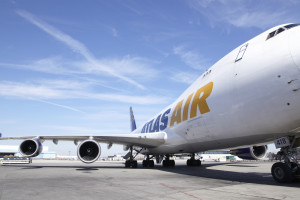 commercial agreements will include the operation of 20 B767-300 converted freighters for Amazon on a CMI (crew, maintenance and insurance) basis by Atlas Air Worldwide's airline subsidiary, Atlas Air, Inc., as well as dry leasing by its Titan Aviation leasing unit.
The dry leases will have a term of ten years, while the CMI operations will be for seven years (with extension provisions for a total term of ten years).
Operations under the agreements are expected to begin in the second half of 2016 and ramp up to full service through 2018.
In March, Amazon signed a deal to lease 20 Boeing 767 freighters from Air Transport Services Group.
Dave Clark, Amazon's senior vice president of worldwide operations, said of this latest deal: "We are excited to welcome a great provider, Atlas Air, to support package delivery to the rapidly growing number of Prime members who love ultra-fast delivery, great prices and vast selection from Amazon."