Amazon has launched an online grocery service for customers in Central and East London.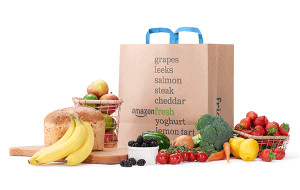 AmazonFresh will offer a range of more than 130,000 products to Amazon Prime members in 69 Central and East London postcodes.
One-hour delivery slots are available from 7am to 11pm, seven days a week, with same-day delivery available from 5pm for orders placed by 1pm.
"We are launching with a comprehensive offer in a limited area and will take our time to hone and improve our service based on our learnings and feedback from our customers," said Ajay Kavan, vice president of AmazonFresh. "We will be very methodical and considered in how we roll this service out further in the UK."
There will be a 30-day free trial and then AmazonFresh will be available to Amazon Prime members for £6.99 per month with unlimited delivery for orders above £40.
Amazon is sourcing grocery items from major brands including Morrisons, Coca-Cola, Kellogg's, Danone, Warburtons, Walkers, and Yeo Valley as well as products from some well known specialists including Gail's Artisan Bakery, C.Lidgate, FishWorks, and Paxton & Whitfield.
Amazon has offered food and drink items since 2010 when it launched its Grocery Store. This carries hundreds of thousands of ambient products including many niche, international and healthy options. In November 2015, Amazon.co.uk launched Amazon Pantry, an exclusive service for Prime members with some 7,000 products.
"The bar in grocery retailing is exceptionally high. The supermarkets and grocers are among the very best retailers in the world," said Kavan "We believe that the key to the long term success of AmazonFresh is to bring together the low prices, vast selection, fast delivery options and customer experience that Amazon customers know and love."