Amazon is planning to generate 5,000 UK jobs this year – taking the total workforce to more than 24,000 people.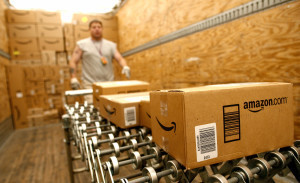 The retail giant is offering a number of role opportunities, including jobs in its current UK fulfilment centres, and its three new unopened sites in Tilbury, Doncaster and Daventry.
The business will also be offering an apprenticeship programme in logistics, engineering and warehousing roles. Amazon will also be opening a new head-office in the 15-storey, 600,000 sq ft Principal Place and adjacent residential tower in Shoreditch.
 "We are creating thousands of new UK jobs including hundreds of apprenticeship opportunities as we continue to innovate for our customers and provide them with even faster delivery, more selection and better value," said Doug Gurr, UK country manager, Amazon. "We are hiring for all types of roles from flight test engineers, software engineers and corporate managers in our development centres and head office, to operations managers, supervisors, engineers, service technicians, HR roles and order fulfilment roles in our fulfilment centres. We are also proud to empower many thousands of others to work alongside Amazon in serving our customers – from Marketplace sellers to Flex delivery drivers to Kindle Direct Publishing authors."
The Mayor of London Sadiq Khan said: "Amazon's commitment to London will deliver new jobs and growth for the economy and offers further proof of our status as a world-class destination for global technology businesses.  Home to some of the world's top tech talent, London is Europe's leading technology hub. Amazon's continued growth in our city is another sign that London remains open to innovation, entrepreneurship and investment from all over the world."