Amazon is opening a 78,000 sq ft delivery station just north of Carlisle, Cumbria. It has taken Border Group's Woodlands Industrial Storage Estate just off Brampton Road in Longtown.
The online retail giant said the new delivery station in Carlisle would open this spring and that it will work with eight independent delivery companies from the site  to provide onward distribution through the region.
This will be co-ordinated through Amazon Logistics enabling it to add capacity and flexibility to Amazon's delivery network to meet increasing customer demand.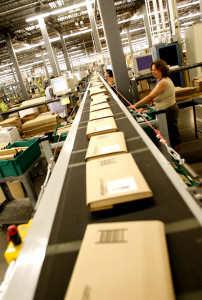 Packages will be shipped to the delivery station in Woodlands Industrial Storage Estate from Amazon fulfilment and sortation centres and loaded onto vehicles to get delivered to customers.
Amazon will create more than 20 permanent jobs at the delivery station. In addition, the independent delivery companies will hire more than 100 drivers who will collect parcels from the delivery station and deliver them to Amazon customers in Cumbria.
In a statement Amazon said: "We are investing in transport infrastructure and innovation to increase supply chain capacity and provide customers with faster delivery options."
The new site is adjacent to the A6701 on the border of England and Scotland, just a mile south of the market town of Longtown and seven miles north of Carlisle.
The warehouse was constructed in 2018 and totals 40,000 sq ft together with the existing warehouse space totalling 38,000 sq ft. The two buildings have seven dock and two level access doors and an eaves height up to 9m.
It was being marketed last year through local agents Edwin Thompson and Walton Goodland with a quoting rent of £4.50 per sq ft.