Amazon is to open a new delivery station in Redruth, Cornwall.
The 43,056 sq ft facility is located on Parc Erissey Industrial Estate. It will employ 20 people directly with a further 80 – 100 drivers expected to be employed through independent Amazon Delivery Partners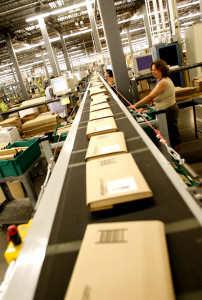 Packages will be shipped to the delivery station in Parc Erissey Industrial Estate from Amazon fulfilment and sortation centres and loaded onto vehicles to get delivered to customers.
Learn more on Logistics Manager
Amazon to open Hull distribution depot
Amazon to open two new delivery depots in Suffolk and Devon
Amazon buys giant Gateshead plot
Kerry-Anne Lawlor, country director for Amazon Logistics, said: "We are excited to open a delivery station in Redruth where Amazon's 20+ years of operational expertise, technology advancements and investment in transportation infrastructure is enabling faster delivery for customers than ever before seven days a week."
Amazon has recently opened delivery stations in Plymouth, Ipswich, Hull, Deeside and Carlisle so far this year.