Amazon is opening two new delivery depots in Plymouth in the West Country and Ipswich in East Anglia.
The company has recently announced openings in North Wales and Cumbria.
Through its Amazon Logistics arm the internet giant has taken the 64,584 sq ft former Range HQ in Estover, in Plymouth,
It will replace the company's existing, temporary facility in the city's Broadley Park Road.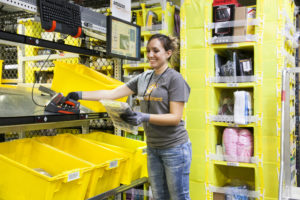 Delivery stations are the last link in Amazon's supply chain. Packages are sent from larger fulfilment and sortation centres to delivery stations where they are picked up by local drivers and delivered to customers.
There are currently 85 Amazon drivers in Plymouth – the company says that this number will increase to more than 100 once the new centre opens.
The number of permanent on-site employees at the facility will also increase from 15 to about 25.
Meanwhile in Ipswich, the online retailer is building a 91,493 sq ft delivery depot on the Eastern Gateway Enterprise Park in Sproughton with hopes of it going live by the summer.
The internet giant will create more than 40 permanent jobs at the delivery station and expects to work with 12 independent delivery companies employing as many as 200 drivers who will collect parcels from the delivery station and deliver them to Amazon customers in Suffolk.