Amazon has unveiled its first ever branded cargo aircraft during the Seafair Air Show in Seattle.
The Boeing 767-300, operated by Amazon's air cargo provider Atlas Air, is the first of 40 dedicated cargo aircraft being leased by Amazon.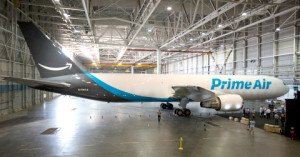 "Creating an air transport network is expanding our capacity to ensure great delivery speeds for our Prime members for years to come," said Dave Clark, Amazon's senior vice president of worldwide operations. "I cannot imagine a better way to celebrate the inaugural flight than in our hometown at Seafair alongside Amazon employees and Seattle residents."
The aircraft, named Amazon One, is one of 40 that Amazon has agreed to lease through air cargo partners Atlas Air and ATSG. There are currently 11 dedicated aircraft flying for Amazon today with additional aircraft rolling out over time.
In the past year, Amazon has launched a series initiatives including Amazon Flex, the mobile application that allows individuals to sign-up to deliver for Amazon, a dedicated network of 4,000 trailers to increase trucking capacity and, the network of air cargo planes.
Amazon's now operates a network of more than 125 fulfilment centres and 20 sortation centres.