Strong volume growth in the US led by Amazon offset declines in international package and supply chain and freight divisions at UPS during 2019 – in a year that saw a 3.1% increase in turnover to $74 billion (£56 billion).
Turnover in its US domestic division rose 6.7% in 2019 to $46.5 billion, while international packaging turnover fell 1.5% year-on-year to $14.2 billion and supply chain and freight turnover fell $13.3 million.
In the fourth quarter alone total volume in its US domestic division grew 9%, as UPS pushed further into e-commerce and retail.
David Abney, UPS chairman and chief executive, said: "We processed record volume during the quarter as customers took full advantage of the capabilities of our integrated network and broad portfolio of solutions.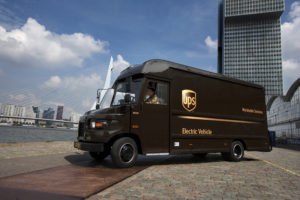 "Given the tremendous opportunities ahead, we have elected to implement [SME] initiatives now to speed up our network and broaden our weekend operations, actions that will improve our competitiveness and generate growth," he added.
Operating profit across all three of its divisions rose, cumulatively by 10.4%, to $8.15 billion.
Brian Newman, UPS's chief financial officer, said the business "managed through several challenges in 2019, including declines in industrial production".
"We were able to leverage the capital investments we have made to grow profits and expand margins, and we are fast-tracking our initiatives in 2020 to better position UPS to capitalise on structural changes in the market and growth opportunities."