Amazon is set to open its 260,000 sq ft fulfilment centre near Manchester Airport in autumn this year. It has started the recruitment programme for the site.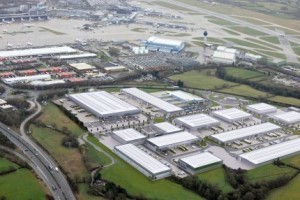 This will be the first distribution centre the retail giant has opened in the North West, and one of two new centres to open in 2016. It is set to generate 1,000 new permanent jobs over three years.
Amazon is also opening a new 1million sq.ft fulfilment centre in Coalville, Leicestershire, in the autumn – which will create 500 jobs over three years.
At the end of last year Amazon also purchased New Capital's 110,000 sq ft Venus 110 at Knowsley Industrial Estate in Liverpool. Additionally, in 2015 the retailer took a 10 year lease on a 170,000sq ft unit at Lancashire Business Park.
"We are excited to open our first fulfilment centre in the North West of England, creating 1,000 new permanent jobs over three years with competitive wages and comprehensive benefits starting on day one," said John Tagawa, Amazon's Vice President of UK Operations. "We are proud to continue to add new permanent jobs to grow our dedicated and enthusiastic workforce who play a crucial role in delivering a first rate level of service for our customers."
Mike Kane, MP for Wythenshawe and Sale East, said: "This is fantastic news for residents of Wythenshawe and Sale East. 1,000 new permanent jobs over three years will open up new opportunities for many people in my constituency. This investment is another big step in the renaissance of Wythenshawe."
Currently, Amazon has ten fulfilment centres in the UK, including two in Doncaster and one each in Dunfermline, Dunstable, Gourock, Hemel Hempstead, Milton Keynes, Peterborough, Rugeley and Swansea Bay.