Amethyst Group has pre-let a 210,000 sq ft warehouse at Griffen UK Property Investments' 59-acre distribution park in Wellesbourne, Warwickshire.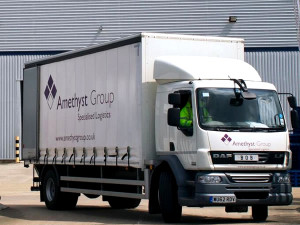 Amethyst has entered into a 15-year lease with no breaks, at a rent of £6 per sq ft with an initial one-year rent free period. The lease will benefit from a year-five upward only rent review.
The facility will include 15m eaves, a 60knm floor loading, 50m yards, 24 loading doors (18 taildock, 6 level access (4 double height)), 165 car parking bays and a 6 per cent office ratio. The building will achieve a BREAAM excellent rating. Following the warehouse's completion in H2 2017, it will be Amethyst's premier UK logistics space. Griffen Development will be responsible for delivering the scheme.
Naresh Patel, managing director of Amethyst Group, commented: "Amethyst is delighted to partner with Griffen to secure this 'Super-Hub' which will complement its existing portfolio of warehouses. Its addition demonstrates our commitment to support and extend our growth, ensuring our continued expansion as a leading provider of Multi Channel services within the Toy, Nursery and Fashion sectors.
"The location has been a significant and deciding factor being in close proximity to the motorway network, major parcel carrier depots and also the "Golden Triangle".
Rui Nobre, CEO at Griffen, said: "This significant pre-let demonstrates the ongoing demand for prime distribution and logistics assets in the UK, driven by the growing opportunity presented by the continuing growth of e-commerce in the UK.
"We retain a strong level of confidence in the outlook for the UK distribution and logistics space for the foreseeable future, as the underlying fundamentals driving the requirement for industrial property remain strong.
"Occupier appetite for both pre-let and speculative development schemes is unabated and we are looking at a number of different opportunities that should offer significant returns on investment, filling what we forecast to be a significant gap in the market, following the decisions by others to pause on projects post the UK referendum."
Wellesbourne is situated off J15 on the M40 corridor, close to Warwick, and offers access to 90 per cent of the UK's population within a four-hour HGV drive time. In addition, the Port of Southampton and several major UK airports can all be reached within a two-hour drive time, giving the park significant strategic value.
In addition to the pre-let, Griffen has completed a 132,000 sq ft speculative development unit at Wellesbourne and negotiations are well advanced with a potential occupier. Amethyst is taking the second phase development, as part of Griffen's large scale development programme at Wellesbourne, with the third and fourth phases of speculative development, comprising 50,000 sq ft and 70,000 sq ft due to commence shortly, for which planning approval has already been obtained.
Griffen acquired Wellesbourne in February 2015, comprising 585,000 sq ft of occupied accommodation, across ten units, plus 20 acres of land which provided the development opportunity. In addition to its development programme, Griffen has committed to a material landlord contribution towards the overall site upgrade improving the roads, walkways, lighting, security, landscaping and access, further increasing the desirability of the estate for both existing and potential occupiers.