AMH Material Handling has completed three projects for DHL at its Hams Hall site in Birmingham.
The 400,000 sq ft site handles the receiving, storage, and distribution of products for Selfridges & Co, and the site in Hams Hall provides services to four Selfridges UK stores.
Assam Khan, operations manager at DHL said: "Selfridges approached us and said they needed to increase their e-commerce throughput. As a third party logistics provider, it was down to DHL to source the equipment to achieve this."
Khan said that it needed to expand the number of workbenches on-site to increase throughput and it commissioned AMH to complete the additional work to accommodate this.
"We decided to move the store retail operation on the ground floor to the far side of the facility," he explained
"This freed up a significant amount of space enabling AMH to install two additional conveyor feeds to the despatch line. This allowed us to add an additional 60 benches on the ground floor – significantly increasing packaging throughput.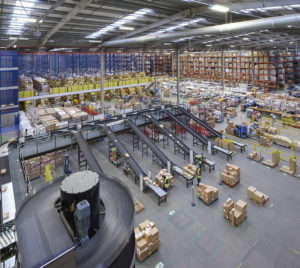 "Selfridges came back to us and predicted another significant increase in e-commerce throughput for 2019."
Khan said that in order for Selfridges to prepare for its Christmas Comes Early week – when it process 58,000 units per day –  AMH came back onto site and replaced old obsolete belt conveyors and installed new replacement conveyors to feed the powered decline spiral conveyor.
"This has allowed us to make both the ground floor and level 1 our main processing floors with the option of opening up level 2 as we need it. During peak periods all three floors run at full capacity for 24 hours a day," he said.
"The new three-floor automation system has increased efficiencies not only by making room for additional workbenches, but also by improving the site layout and allowing us to store products more efficiently."

AMH Materials Handling (stand 722) is exhibiting at IntraLogisteX – the UK's only intralogistics show in 2020 – which takes place on the 31st March and 1st April 2020 at the Ricoh Arena, Coventry. Register your interest now at www.intralogistex.co.uk