Technology and customer demands are changing rapidly in the spare parts market. Leading professionals discussed how these changes are impacting the industry at our round table sponsored by Flex.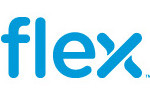 The spare parts market is calling out for an innovation revolution. New technologies are piquing the industry's interest, and a move towards understanding the 'people dimension' of a business and its customer base is on the horizon.
Our panel of supply chain professionals seized on these issues when we asked: "Where is spare parts logistics going in the 21st Century and what do we foresee the challenges to be," at our round table sponsored by flex.