apetito, the supplier of food to the health and social care sectors, apetito, has chosen six Volvo FH tractor units for its main distribution centre at Portbury, Bristol, as part of a three-year fleet replacement policy for trunking operations.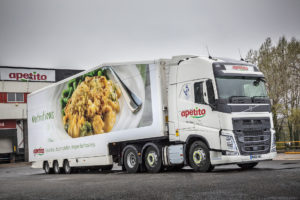 Jon Jackson, training, safety and logistics manager at apetito said: "All our vehicles operate out of Bristol, but they will go as far as Motherwell and many points in between. As such we undertook extensive research, including a three-week loan of an FH-500 for fuel benchmarking, before settling on Volvo."
The six by two pusher axle, medium height tractors units are equipped with front steel, rear air suspension systems. Powered by Volvo D13K Euro-6 engine producing a maximum of 500hp, the 3,900mm wheelbase units also feature 12-speed I-Shift automated transmission systems and Globetrotter XL Cabs.