Argos is extending its hub and spoke distribution concept with a trials of a regional hub, parent Home Retail Group said in its latest trading statement.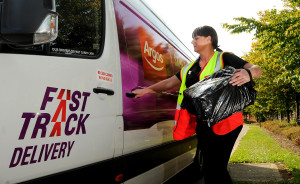 The system currently supports around 20,000 products in local hubs to make them available for faster fulfilment via home delivery or store collection. The regional hub trial will provide the potential to hold a significantly higher number of products, including third party products, for same day fulfilment.
The existing system enabled the introduction of same day delivery service 'FastTrack', and is part of Argos' 'Transformation Plan' to reinvent the company as a digital retail leader.
FastTrack delivery and collection was introduced in October. During the following two months Internet sales grew by 13 per cent year-on-year, and represented 55 per cent of total Argos sales – up from 50 per the year before.
" FastTrack, together with our now-proven store concession model and improvements in digital channels, drove increases in digital sales, digital participation and home delivery," said John Walden, chief executive of Home Retail Group. "I continue to believe that the capabilities being developed in the Argos Transformation Plan will position Argos as a retail leader in an increasingly digital future."
One-man home delivery grew 82 per cent during these months in comparison to the same period in 2014.
"While Argos trading performance was mixed, I am pleased that we made material steps forward in the Argos Transformation Plan," said Walden. "Total sales at Argos increased 0.9 per cent."
However, during the period of the 18 weeks leading up to 2nd January 2016, like-for-like sales decreased by 2.2 per cent.
Home Retail Group, which is currently a takeover target for Sainsbury's, expects profit before tax for the financial year ending in February will be around the bottom of the existing range of market expectations of £92m to £118m.
Home Retail Group plans to sell Homebase
Home Retail Group has 'commenced and progressed discussions" for the sale of Homebase to Australia retailer Wesfarmers.
"Yesterday we announced that we are in advanced discussions to sell Homebase, which would provide good value for shareholders and a growth opportunity for Homebase colleagues," said Walden in HRG's trading statement.
"The potential transaction would allow the group to focus on Argos and its Transformation Plan, with an improved balance sheet and financial position, which I believe would represent an even greater opportunity for building long-term shareholder value. "
Like-for-like sales increased by 5 per cent at Homebase – with total sales decreasing by 4 per cent.
The trading statement said that the 'Homebase Productivity Plan' included an 'aggressive' store closure system, overhead reductions and customer proposition improvements. Home Retail Group is attempting to market Homebase as a smaller 'higher quality' business.