Arla Foods is to invest £37.5 million in its UK sites and logistics in 2017 – an increase of 51 per cent on last year's spending.
The funding is part of a wider investment in the company's international sites – globally it will spend £285 million.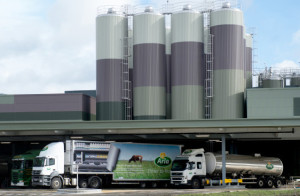 The investment will be spread across its 13 UK production, packing and distribution sites and its logistics operation.
"Last year, I unveiled the most ambitious UK business strategy to date to make Arla a household brand by 2020 and grow its revenue by nearly a third," said UK managing director Tomas Pietrangeli.
"This ambition is part of the company's global strategy for growth and will position Arla as the champion of British dairy.
"By continually investing and improving our sites, we can ensure we grow capacity, maintain high quality of our products and ultimately return the best possible price to our farmer owners".
The UK projects include:
£5m at Stourton dairy, in Leeds, for a number of projects that will include a new packing facility that will allow it to increase production of own-label flavoured milk.
Taw Valley creamery, in Devon, will see £5m to further develop capacity and harnessing latest technologies and process to support product quality for its hard cheeses such as Cheddar, Red Leicester and Double Gloucester.
A significant proportion of the £3.5m at Arla's fresh milk processing site in Aylesbury will go on new processing equipment for Arla B.O.B. The investment will allow the site to begin production of fat-free skimmed milk.
The Westbury operation in Wiltshire, home to Anchor butter, will see £3m spent on supporting facilities to ensure continuous product production during planned essential maintenance.
Globally the dairy producer is focusing on production upgrades in its larger markets like Germany, the UK, Denmark and Sweden.