ArrowXL is to use PostTag technology to improve the accuracy of delivery information.
The PostTag system checks the address details of every scheduled delivery across multi-databases. Once the programme is satisfied it has the precise location, it creates a unique PostTag for that property based on complete address data.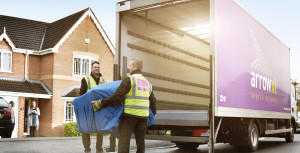 Once fully deployed, ArrowXL will use this solution to guide its delivery drivers to the right location. This will be especially valuable for crews trying to find a particular home within large country estates where a single postcode can cover several miles of properties, or when they're delivering a product to densely populated communal buildings like flats. As part of the integration, consumers will also be able to send ArrowXL the exact location of their property via GPS.
Chief information officer James Robbins said: "PostTag will help to rectify any delivery failures that are caused by difficulty locating the correct property. It will allow us to streamline operations and improve our internal processes, but most importantly of all, it will unquestionably enhance the consumer journey."