Asda has participated in a trial of Polymer Logistics' Cleanpal plastic pallet alongside Lincolnshire vegetable supplier DE Brand.
The Cleanpal pallets were used for field palletisation and shipment to Asda's distribution centres in Skelmersdale and Lutterworth.
Broccoli and cabbage, with an average tray weight of 9kg, were used in the trial.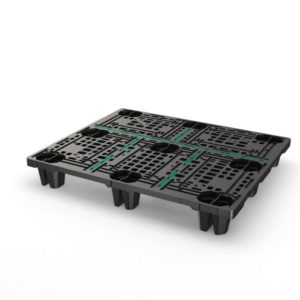 Harvest workers found that the plastic pallets, weighing 15kg each, could be easily handled in the field and did not require any change when it came to pallet strapping. Crates can be lifted and stacked manually as well as nested when empty to optimise space utilisation. Interlocking trays meant that there was no loss of palletised product in transit and the free underdeck providing a larger opening than found in wood pallets, making it easier for fork entry for operators.
Asda said trays of product could be easily slid from the pallet as per established best practice, which is often not feasible with wood pallets.
"In today's supply chain, speed, safety and reliable quality have become essential. Problems related to the use of wood pallets are increasingly coming under the microscope as retailers look to take their operations to the next level. This trial demonstrates how Cleanpal delivers in every category to improve the fresh produce experience," said Polymer Logistics managing director Adrian Dale.