Asda's parent company Walmart has started testing online deliveries handled by its store employees.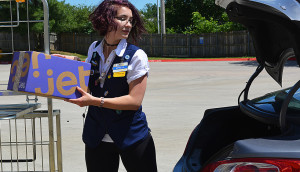 According to Marc Lore, president and CEO of Walmart U.S. eCommerce, this could "cut shipping costs and get packages to their final destinations faster and more efficiently".
He said that the multinational already has trucks transporting orders from distribution centres to stores for pick up, and that these trucks could also be used to "bring ship-to-home orders to a store close to their final destination" where a participating employee can sign up to deliver the product to a customer's home for extra income.
Lore added that the scheme is unique in that the employee is starting at the same place as the packages. When the employee finishes their shift, they pick up a package from the backroom, load them into their vehicle and enter the delivery address into the GPS on their phone and head home.
He said that employees are "fully in control of their experience" so don't have to participate in the scheme.
The tests are taking place in three stores, two in New Jersey and the other in Arkansas.