BS Handling Systems has completed a contract with ASOS to design, manufacture and install a hanging garment solution for its site in Barnsley.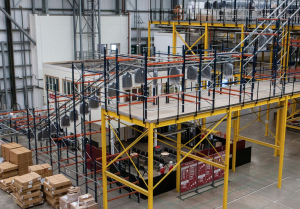 The new system can store 500,000 hanging garments, and includes a 30m long ladder conveyor for the transport of fashion items up to a 10m high mezzanine. It also includes a slick-rail system to move items in and out of store destinations, as well as a decline conveyor.
"Our original hanging garment storage was split over three different floors – it was a manual solution which we had kept adding to over the years as the company grew," said Mike Kosciukiewicz, senior development manager, ASOS Supply Chain. "The hanging garments were moved around from Goods In on rails, taken to the different floors by goods lift and then wheeled in small batches to the storage areas. Bringing ordered garments back down to the ground floor was the same, very time consuming and labour intensive procedure.
"We took the view that if we wanted to continue to expand our hanging garment capacity then we needed to store all of the products in one place and move them around using conveyors to drive the efficiency of the operators.
"Three suppliers with experience in GOH systems were asked to tender for this major project. It was BS Handling Systems that came back with the most appropriate solution at the best value for us. They were awarded the contract."