Online retailer ASOS is starting work on a new European distribution centre near Berlin, twice the size of its current location. In its first phase the centre will measure 44,000 sq m, with the potential to expand to 90,000 sq m.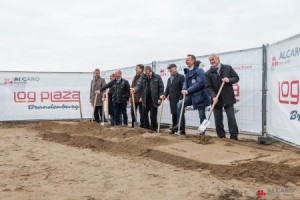 The new 'Eurohub'is being built at Log Plaza Brandenburg in Großbeeren which is just south of Berlin. An ASOS spokesperson said: "The building will be operational in 2017 and is a response to business growth across Europe. The facility, more than twice the size of our current location, will allow us to further service the growing order rate of our European customers."
The site, which is being developed by Alcaro Invest GmbH, will have eight single-storey warehouses, providing 85,100 sq m of logistics space, as well as 6,200 sq m of office, social areas and 850 parking lots – with an estimated end investment volume of €80 million. The site will developed in eight stages.
CEO Nick Beighton outlined the retailer's plan for the new site in ASOS's 2015 annual report: "This new warehouse, along with automation technology, will eventually provide us with total capacity of 20m units and represents an extensive project for us over the next four years, with expected total capital expenditure of £60m over this period. Over the next twelve months we intend to invest £20m fitting out the warehouse infrastructure for a manual picking operation, and by early 2017 expect to accommodate 10m units.
"We will then be able to move out of our existing Eurohub operation into this new warehouse. Over subsequent years we will further extend, in a modular fashion, to accommodate automated picking and despatch, as well as automated mini-loads," said Beighton.