ASOS is offering a "try before you buy" scheme that could reduce basket abandonment – but might lead to an increase in the level of returns.
Customers can order what they want to try on, and then send back any items they don't want. They have 30 days to pay for what they keep with no interest charges or fees.
For the scheme, ASOS is using the Pay Later service operated by Swedish bank Klarna.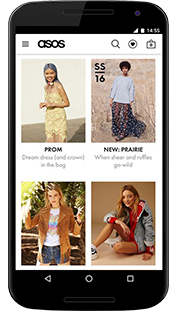 Basket abandonment, where customers fail to complete an online purchase is a significant problem for retailers.
While conventional returns schemes have become slicker in recent years, there can still be a delay in refunding payment – and that can sometimes stop buyers making further purchases.
"We know people love the option of paying later only for the things they keep, and are excited to introduce this for customers shopping on our app in the UK," said Nicola Thompson, global trading director at ASOS.
Research published by Klarna in March 2017 suggested that allowing consumers to pay once they've had the chance to try their goods would make 25 per cent of online shoppers more likely to shop again with a retailer. However, nine per cent said it would make them return more items.
Luke Griffiths, Klarna's UK general manager, said: "In the past, returns were regarded by retailers as an unwelcome cost of doing business. But consumers today demand a seamless, frictionless customer journey – whether they're shopping, paying or returning.
"Returns are quickly emerging as a competitive differentiator for merchants, who must optimise their capabilities or risk being left behind. Retailers looking to reap the greatest rewards should consider combining smooth returns with an option to Pay after Delivery – giving shoppers a convenient way to 'try it, love it, then pay for it'."
Earlier this year ASOS launched a size recommendation tool in a bid to reduce the level of returns. However, it attracted some scathing comments from customers.
One tweeted: "WELL MAYBE I'VE LOST WEIGHT SINCE THE LAST TIME I ORDERED WHICH OK WAS 5 DAYS AGO BUT STILL I COULD HAVE".