The winners of the 2015 European Supply Chain Excellence Awards were revealed last night at a glittering ceremony in London.
Waterstones, with its logistics partner UTL, took the overall award after transforming its supply chain to strengthen its competitiveness in a book market that has changed dramatically with the growth not only of online retailing but the advent of e-books. Waterstones and UTL also took the Award in the Retail Supply Chain category.
The Individual Contribution Award went to Birgitte Stalder-Olsen, head of logistics at the International Federation of Red Cross and Red Crescent Societies, who has played a key role in ensuring that humanitarian aid gets to where it is needed in some of the most difficult and remote locations in the world.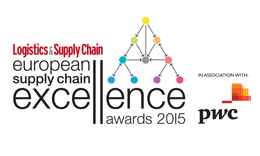 All the winners:
Overall Winner sponsored by: PwC
Winner: Waterstones with UTL
Shortlist
Department for International Development with Grown Agents and International Procurement Agency (CAIPA)
Philips Consumer Lifestyle with flex
Rohde & Schwarz GmbH Co KG
Suzuki GB PLC with Bespoke Distribution Aviation (BDA)
Winner: Waterstones with UTL
Individual Contribution Award
Winner: Birgitte Stalder-Olsen

Hi Tech, Communications & Electronics sponsored by: flex
Winner: Rohde & Schwarz GmbH Co KG
Shortlist
EE
Rohde & Schwarz GmbH Co. KG
Telefónica UK

Extreme Logistics
Winner: 84 Medical Supply Squadron, 9 Regiment RLC, British Army
Joint Highly Commended: 10 The Queen's Own Gurkha Logistic Regiment
Vanguard Enabling Group (HQ 104 Brigade)
Shortlist
10 The Queen's Own Gurkha Logistic Regiment
47 Air Despatch Squadron RLC, 13 Air Assault Support Regiment RLC
6 Regiment RLC, Operation CATALINA+
84 Medical Supply Squadron, 9 Regiment RLC, British Army
Vanguard Enabling Group (HQ 104 Brigade)

Public & Third Sectors
Winner: Department for International Development with Crown Agents and International Procurement Agency (CAIPA)
Highly Commended: National Grid PLC
Shortlist
Department for International Development with Crown Agents and International Procurement Agency (CAIPA)
National Grid PLC
NHS South of England Procurement Services Portsmouth Hospitals NHS Trust with Ingenica Solutions
Nottingham Trent University

Automotive, Aerospace & Industrial
Winner: Suzuki GB PLC with Bespoke Distribution Aviation (BDA)
Shortlist
DS Smith Group with SpringTide
Heathrow Airport Ltd with Wilson James and Labyrinth Consulting
Suzuki GB PLC with Bespoke Distribution Aviation (BDA)

Retail and e-tail
Winner: Waterstones with UTL
Shortlist
Booths with RELEX Solutions
Firebox.com with arvato UK & Ireland
Homebase with Kuehne + Nagel
Mercator with Symphony EYC
Vision Direct with Scurri Web Services
Waterstones with UTL

Consumer Products sponsored by: Dachser
Winner: Philips Consumer Lifestyle with flex
Shortlist
2 Sisters Food Group
Philips Consumer Lifestyle with flex
Sugru with James and James Fulfilment
Tulip Food Company
Whitbread with Kuehne + Nagel

Innovation in Supply Chain sponsored by: UMS
Winner: Twentieth Century Fox Home Entertainment (FOX) with Cinram

Team of the Year
Winner: Firebox.com with arvato UK & Ireland

Training & Professional Development
Winner: NOVUS
Highly Commended: Whirlpool UK Appliances Ltd
Shortlist
Whirlpool UK Appliances Ltd
IBM ISC Vac
NOVUS
Renault Mais with OMSAN Logistics
Sky Deutschland with UMS Consulting
Swan Housing with Safetybank
Virgin Trains with DHL

Supply Chain Strategy & Design
Winner: Diageo PLC
Highly Commended: Rohde & Schwarz GmbH Co. KG
Shortlist
Carnival UK
Diageo PLC
Homebase with Kuehne + Nagel
Hotel Chocolat
Rohde & Schwarz GmbH Co.KG
Tesco with Fowler Welch and DPS

International operations
Sponsored by: Kuehne + Nagel
Winner: Department for International Development with Crown Agents and International Procurement Agency (CAIPA)
Shortlist
Department for International Development with Crown Agents and International Procurement Agency (CAIPA)
IBM DSS Vac
Phase Eight with MIQ Logistics

Sourcing & Procurement
Winner: Nottingham Trent University
Shortlist
Belron International Ltd
Cofely Ltd with iVeridis UK
John Lewis with Ligentia UK Ltd
Nottingham Trent University
Flybe Plc with Expense Reduction Analysts
Vodafone

Customer Service & Support sponsored by: OpenMarket
Winner: Telefónica UK with Redeem
Shortlist
Cromwell Group
EE
Philips Consumer Lifestyle with flex
Telefónica UK with Redeem

Supply Chain Operations
Winner: National Grid PLC
Shortlist
3M with HCL Technologies Ltd
Argos with DHL International Supply Chain
National Grid PLC
Toyota Manufacturing UK Ltd with Yusen Logistics

Environmental Improvement
Winner: Spirit Pub Company (acquired by Greene King)
Shortlist
Spirit Pub Company (acquired by Greene King)
The City of Hamburg with UPS
Whitbread with Kuehne + Nagel

Logistics & Distribution sponsored by: Verdion
Winner: Waterstones with UTL
Shortlist
DS Smith Group with SpringTide
Heathrow Airport Ltd with Wilson James and Labyrinth Consulting
News UK and Telegraph Media Group with CEVA Logistics
Tayto Group Ltd with Bibby Distribution
Waterstones with UTL

Warehouse Initiative
Winner: Dixons Carphone
Shortlist
Clarks International with Total Logistics
Dixons Carphone
Maplin Electronics with iForce
Mobis with Unipart Aftermarket Logistics
Twentieth Century Fox Home Entertainment (FOX) with Cinram

SME of the Year
Winner: Scandinavian House with Proximity
Highly Commended: Firebox.com with arvato UK & Ireland
Shortlist
Firebox.com with arvato UK & Ireland
FormFormForm Ltd (Sugru)
Hotel Chocolat
Scandinavian House

Technology
Winner: Booths with RELEX Solutions
Shortlist
Booths with RELEX Solutions
IBM
Infineon Technologies
PIAS with Cinram
Scandinavian House with Proximity
Toyota Manufacturing UK Ltd with Yusen Logistics

3PL of the Year Sponsored by: CNA Hardy
Winner: UTL

Rising Star sponsored by CEVA Logistics
Winner: Vincent Hall
Shortlist
Captain Sadie Monks, Regimental Technical Officer, 10 QOGLR, designer and manager of the Op GRITROCK Demand Cell
Cpl Michael Edwards, TQMS SDE JNCO, 47 Air Despatch Squadron, 13 Air Assault Support Regiment RLC
Paul Fletcher, Supply Chain – Cost to Serve Supervisor, 2 Sisters Food Group
Hayley Kenny, Client Support Manager, BDA
Vincent Hall, Manager, Supply Chain Engineering, DHL International Supply Chain
Darco van der Leij, Transport Planner & Change Agent, CEVA logistics
Florian Mutzbauer, Manager Warehouse & Fulfilment, Sky
Lucy Tyson, Supply Chain Planning Manager, National Grid