Superdry, with its logistics partner Clipper, took the Overall Award in the 2018 Supply Chain Excellence Awards – a particularly notable achievement in a year that saw a dramatic increase in the number of companies entering the Awards.
The Award was presented at a glittering ceremony before hundreds of supply chain leaders at London's Park Lane Hilton in November.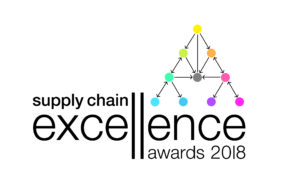 Steve Rayson of Superdry said: It's great to celebrate the journey that's taken five years. It's not just an award for us but for Superdry and all its partners."
Superdry fought off strong competition from some global supply chain leaders. Among the highest scoring entries were Heineken, Keysight Technologies, Ocado and Turkcell. But ultimately, the contenders came down to John Lewis with Knapp, Sky with Unipart, and Superdry with Clipper Logistics.
The 22nd Supply Chain Excellence Awards took place at the Park Lane Hilton in London on 6th November.
---
AWARD: OVERALL WINNER
Winner: Superdry with Clipper Logistics
As in previous years of the Supply Chain Excellence Awards, the Overall Winner must demonstrate to the judges that it has the characteristics and attributes of a world-leading supply chain. The organisation should be agile in its response to change, innovative in its strategic vision, inspirational in terms of team management and exemplary with regards its execution of projects and continuous improvement programmes. In addition, all this must be supported by strong metrics and benefits that enhance the competitive performance of the business. The judges were looking for nothing short of supply chain excellence – and they found it.
Among the highest scoring entries were Heineken UK, Keysight Technologies, Ocado and Turkcell, where they proved their mettle by convincingly winning their categories. However, the scope of the projects presented where not considered quite comprehensive enough to be included in the final shortlist for the Overall Award. That's not to say they didn't demonstrate many aspects of supply chain excellence.
The front-runners for the Overall Winner trophy came down to three entries that had the breadth of characteristics, the scale and the supporting data to be considered as possible winners. Those entries were John Lewis Magna Park Campus with Knapp, Sky PLC with Unipart Logistics, and Superdry with Clipper Logistics.
Over the last 18 months John Lewis' Magna Park campus has seen the introduction of a second building, new automation and a third more SKUs with completely different handling characteristics, suppliers and processes. There was plenty for the judges to like in the way an automated handing garment system has been put to work alongside new generation mini-load storage technology to add significant efficiencies and cost savings across the supply chain. They were particularly impressed by the huge reduction in parcel shipments that has resulted from order consolidation. But was it enough to win overall?
Sky PLC with Unipart Logistics also impressed the judges with its dedication to removing single use plastic from its global supply chain – on track to cut a minimum of 1000 tonnes over three years – along with its initiative with Unipart Logistics to overcome the technical challenges of moving a software flashing operation from a single-user site to a multi-user facility. The judges liked the way that the efficiencies achieved had direct advantages for both engineers and end customers. Another good contender, but it was not to be this year's winner.
However, there was one entry that clearly stood out from the rest. The judges were astounded by the commitment of Superdry in working with its logistics services provider, Clipper Logistics, to embrace change and undertake a series of major projects – eight in five years. There was little doubt that the collective benefits created for the business were substantial and wide ranging.
As a forward-thinking global fashion brand, Superdry has progressively transformed its supply chain, driving innovation in the business to deliver competitive advantage. Initiatives have included the introduction of a single stock pool, omni-channel picking, a live inventory pool, a tailored click and collect solution, vendor labelling, tactical storage and a comprehensive range of compliance measures. The operational advantages that have been delivered to the business are plentiful and include: carton fill utilisation and order picking productivity have been boosted, visibility has been improved, replenishment movements and order cancellations have been reduced, and e-commerce sales, online product availability and basket conversion have all seen uplifts.
The figures to support their results are there in abundance. The transformation has enabled an increase in e-commerce pick productivity from 45 units per hour during peak 2016 to 65 units per hour in peak 2017 – a rise of over 40 per cent. Order cancellations have been dramatically decreased as a result, from 1.4 per cent in 2016 to 0.31 per cent in 2017. E-commerce saw an uplift of 60 per cent within six months of go-live, daily e-commerce output increased by 60,000 units per day at peak and efficiency gains have resulted in labour savings of £500,000.
The judges were amazed, as the benefits went on – online product availability has increased from around 300,000 units of stock to an impressive 3,500,000. In turn, this has helped increase basket conversion by 14 per cent. Daily e-commerce dispatch capability has also more than doubled in the past two years.
What's more, this work has been undertaken by Superdry across its global supply chain, including five distribution centres, seven upstream consolidation centres over four contract logistics partners and multiple vendors.
The results spoke for themselves. This was an entry that took the judges' breath away. The judges said: "This is a business that has amply demonstrated supply chain excellence, proving its ability to continually transform its supply chain to stay ahead of the game." Adding: "The Superdry team have presented strong evidence of the journey that the business has made and it deserves to be recognised." The Overall Winner trophy for the Supply Chain Excellence Awards 2018 went to Superdry with Clipper Logistics.
AWARD: AUTOMATION INNOVATION
Winner: John Lewis Magna Park with Knapp
The use of automation within warehouses is becoming increasingly attractive to businesses following the exponential growth of e-commerce and the shrinking of the available labour pool. So the judges were keen to see the latest initiatives being adopted by the sector. The two entries stood out: China Post with Beijing Geekplus Technology and John Lewis Magna Park with Knapp.
The entry from China Post centred on its Wuhan Distribution Centre where parcel sortation volumes have exceeded 600,000 pcs/day following the installation of a Geekplus sortation system. Here some 320 intelligent AGV robots sort 20,000 parcels per hour, delivering a 70 per cent saving on manual labour costs.
The judges liked the innovative approach taken to solving the problem of heavy parcels – the bane of traditional sorters. Eighty of the robots are designed to carry packages up to 100 kg, a capacity far in excess of the 10 kg payload of the smaller units. The judges could see the many benefits the system offered the postal business. The judges recognised that this was a great solution to the challenges faced by the business. However, China Post was up against tough competition.
Since 2005 John Lewis has been working closely with Knapp on the retailer's NDC in Milton Keynes. The site has expanded significantly and a bridge now links Magna Park 1 to Magna Park 2. Successive investments in automation technology have created a fully integrated fulfilment centre matched to the needs of the business.
Over the last 18 months the Magna Park campus has seen the introduction of the second building, new automation and a third more SKUs with completely different handling characteristics, suppliers and processes. An automated hanging garment system works alongside new generation miniload storage technology, adding significant efficiencies and cost savings across the supply chain – including order consolidation, which has resulted in parcel shipments being reduced by over one million units a year. By consolidating hanging and flat garments at Magna Park, and by migrating from a third party operation, outstanding efficiencies and cost savings have been achieved.
The judges said: "This is a clear winner – a great data-driven, customer-centric solution to a set of clearly defined strategic issues. They have evolved the site to help reshape their business and it has grown and been transformed to meet market needs. This is worthy of recognition".
AWARD: CUSTOMER SERVICE & SUPPORT
Winner: Co-op Insurance
The customer should be the focus of any supply chain that wishes to be considered as excellent. With this in mind the judges were torn between two entries – Jersey Post and Co-op Insurance.
The entry from Jersey Post concerned a number of initiatives and investments aimed at enhancing customer service. With a 21 per cent increase in inbound parcel volumes since 2015 and a desire to transform the business, it was realised that improvements to operational and customer processes were needed. Through the use of advanced parcel management solutions, delivery performance has been greatly improved and now first-time deliveries stand at 96 per cent. Importantly, the process of quarantine, payment and release of items with Customs duty payable has been cut from around 5-7 days to just 2-3 days and as duty can now be paid while the manifested item is in transit, there may be no delay at all. Real-time tracking has greatly reduced calls to customer services and customer satisfaction has increased significantly.
The judges could see that this was a transformation of the business clearly focused on enhancing the experience of the customer, and so they Highly Commended Jersey Post.
The winning entry came from Co-op Insurance. Following a decision to re-engineer the management of Home Claims, the business took steps to collaborate with its supply chain to create a new operating model focused on continuously improving the customer journey, towards a speedier settlement and higher quality outcome for the customer. Taking a modern approach to problem solving and by closely co-operating with its supply chain to create an environment of trust, the business has generated substantial savings and improved the company's overall Net Promoter Scores from 31 to 51. The approach taken to realising these improvements intrigued the judges. While Co-op Insurance recognised there were issues that needed to be addressed, it could not see beyond the data and so the business took a bold step of asking its customers to record video diaries as their claims were progressing. The results were illuminating for the company and enabled it to take steps at creating a new operating model for 95 per cent of its building claims by developing new solutions with its existing loss adjusting suppliers.
The judges were hugely impressed by Co-op Insurance's innovative customer centric approach. This had to be the winner.
AWARD: DELIVERY INNOVATION
Winner: Superdry with Clipper Logistics
Efficient delivery is at the heart of a good supply chain. Given the critical role delivery plays, it is then, hardly surprising that the scores were high, which in turn made the judges task all the more taxing. However, the top two runners in this category were Jersey Post with Skillweb and Superdry with Clipper Logistics.
Jersey Post was faced with the challenges of adapting to a new operating model where higher margin letter traffic has reduced and been replaced with lower margin parcel volumes. Working with Skillweb the business has adopted SmartTask POD, which provides an end-to-end mobile communications platform for Ship2me – an innovative home delivery service for imported goods from UK retailers. Together with investments into parcel sorting automation, streamlined customs clearance and a range of delivery choices, revenue has been increased with a large contract for a major UK retailer, and cost per item has been driven down by 54 per cent. The judges could see that this was a very worthy contender, but they were up against this year's Overall Winner.
Superdry, a leading global fashion brand, has consolidated a number of different distribution centres into three sites handling its global supply chain. Working with its logistics service provider, Clipper Logistics, the retailer has significantly improved the effectiveness of its supply chain through a number of initiatives, such as introducing a single stock pool, omni-channel picking, a live inventory pool, tailored click and collect solution, vendor labelling, tactical storage and the introduction of comprehensive compliance measures. Operational advantages have resulted in the form of carton fill utilisation and order picking productivity. Visibility has improved, replenishment movements and order cancellations have reduced and e-commerce sales, online product availability and basket conversion have all seen uplifts.
The judges were duly impressed by the scale and scope of the initiative. The results were there to see: container utilisation boosted by 80 per cent, pick productivity up by 40 per cent, significant improvements in stock availability and a huge rise in e-commerce sales within six months of go-live. The successful transition to a single stock pool brought big benefits during peak 2017, allowing Superdry to restore their next-day delivery offer within 24 hours of Black Friday 2017. What's more, it has allowed the retailer to offer next-day delivery for orders placed before midnight.
The score was high. This was the winner.
AWARD: DEMAND FORECASTING & PLANNING
Winner: Heineken UK
Demand Forecasting & Planning is a core activity within supply chain management and so the judges were keen to seek out excellence. This was a high scoring category where the entries from Turkcell and Pearson Education with Accenture did particularly well. But two entries stood out – Hanes with FuturMaster and Heineken UK.
Hanes is a $6.5bn global apparel company that manufactures and sells underwear and active wear through well-recognised brands including Wonderbra, DKNY, Playtex and Champion. The business found itself with a number of very different systems and processes for managing the supply of goods to nearly 1000 company-owned retail stores and tens of thousands of retailers in more than 40 countries.
To create continuity the Western-European management decided to rollout FuturMaster's demand forecasting software in their region. An effective balance between 'make to stock' and 'make to order' was achieved, bringing significant benefits in terms of forecast accuracy gains of up to ten per cent and with errors and out-of-stocks falling away.
The entry was considered a worthy contender so the judges Highly Commended Hanes with FuturMaster.
In an initiative requiring true collaboration across departments Heineken UK has taken great strides to improve customer service and reduce emergency movements by analysing the relationship between forecast error and weather. By creating a close collaborative relationship between the business systems team, marketing and data scientists, new windows have been opened up on quantifying the impact weather has on sales. With delivery point level mapping to the nearest weather data location for four key product ranges, coupled with analysis of customer behaviour, and events, the key metrics were there for a successful model.
There was plenty for the judges to like in this entry, from collaborative working across departments and the skilful application of data analysis, to sound tactical use of resources and a clearly defined objective. The metrics were good too, with overall forecast accuracy rising from an already high level of around 90 per cent, by a further 1.2 per cent – which is highly significant on a tight run supply chain. Benefits were reduced emergency deliveries to RDCs, less risk of out of stocks, and fewer costly production line changes. For the judges this project demonstrated excellence and deserved to be recognised. The award went to Heineken UK.
AWARD: ENVIRONMENTAL IMPROVEMENT
Winner: Sky plc
The Environmental Improvement category always gets plenty of entries and this year was no exception. Overall, the scores were very high but two entries battled it out for the trophy with just a thin margin between them – Turkcell İletişim Hizmetleri A.Ş. and Sky PLC.
Turkcell is a digital operator providing voice, messaging, data and IPTV services to over 50 million subscribers on its mobile and fixed networks, across nine countries. The business is actively engaged in a number of environmental initiatives and in particular, has succeeded in introducing an environmentally friendly buying strategy, producing $10m of savings and preventing 53K tonnes of CO2 emissions per annum.
In addition, the company is the first in the Turkish telecom market to obtain ISO 14064 and is active in the Carbon Disclosure Project.
The judges were impressed by the significant investments made applying green procurement principles, cutting out waste by specifying energy efficient outdoor cabinets for base stations and the green management of materials. It was a close run thing but Sky had the edge, so the judges decided to Highly Commend Turkcell.
The entry from Sky attained a very high score and for good reason. The entertainment company has grown to become the UK's second largest broadband and fixed-line telephony provider, reaching 23 million households.
However, it has retained a sharp focus on its environmental responsibilities. In January 2017 the business launched Sky Ocean Rescue to inspire simple everyday changes to stop our oceans from drowning in plastic.
And to lead the way, it has set out to remove all single use plastic from its supply chain by 2020.
To achieve this, the business has set annual targets with the aim to remove 1000 tonnes of single use plastic from all finished goods over three years.
The initiative has required Sky to invent and design new methods of packaging to provide protection for highly sensitive electronic products and components. In Distribution too, the company has identified 191 tonnes per year to remove – to date 44 tonnes have already been taken out.
Delivery and returns packaging has shifted from plastic courier bags to paper based envelopes, sacks and specially designed boxes for multiple journeys. For Repair and Returns a further 45 tonnes per have been identified, along with some 30 tonnes per year from Mobile.
The judges were impressed by Sky's dedication to the task and with the meticulous planning and rigor of process that the business has employed.
This was an environmental initiative to be proud of and the judges wished to recognise their efforts. So it was that the trophy was awarded to Sky PLC.
AWARD: ETHICAL SUPPLY CHAIN
Winner: Procter & Gamble with Salterbaxter
The Ethical category saw three very different approaches. Co-op Insurance recognised that it needed to create an environment of trust and openness in the supply chain. With an initial goal to give more back to its shared communities, the Co-op Insurance believed that it could use the strength of its supply chain partnerships as a platform to address broader topics of social injustice such as modern slavery.
Turkcell's procurement project created new jobs and equal opportunities to people living in rural cities of Turkey.
Procter & Gamble and its partner Salterbaxter collaborated with FSC United States to enable Group Certification to reduce costs and barriers to adoption of FSC forest certification. One tangible outcome that will have a lasting impact is a new group certification handbook published by FSC US with support provided by Family Care. Through this collaboration, forestlands committed to FSC certification has increased from 100,000 hectares to over 500,000. The judges were unanimous, the winner was Proctor & Gamble with Salterbaxter.
AWARD: EXTREME LOGISTICS
Winner: Greenshields Cowie
In this category the judges look for excellence in logistics practiced at the very limits of what seems possible. They were not disappointed. The top two entries were from SE Freight & Logistics India – Skeiron Logistics – and Greenshields Cowie.
SE Freight & Logistics India – Skeiron Logistics – is India's largest logistics solutions provider in the renewable energy sector. A major challenge for the business has been the handling and transport of cargo for the Nepal Hydel Project in Upper Tamakosi. This Indo-Nepal Hydro Power scheme demanded the movement over the mountainous and difficult terrain of the India Nepal borders. With a 90-day time frame for completing the delivery of 42 shipments over some 250 km from OEMs in India to Nepal, Skeiron Logistics deployed 12 hydraulic axle vehicles and provided export clearance management services – completing the task within 87 days. This was a major undertaking requiring meticulous planning and execution under arduous conditions. Accordingly, the judges scored them highly, but it was not quite enough to take the trophy.
The winning entry came from Greenshields Cowie. Its challenge was to deliver 547 containers – some 13.6 million mosquito nets – to 196 final destinations set among the fighting and conflict in South Sudan. This was a truly impressive achievement requiring 77 emergency air charters to seven different locations, 34 containers joining a UN convoy, and arranging free storage at an agent's yard during evacuations. Working on behalf of the Global Fund's Bed Net Distribution Programme to South Sudan (2016 – 2018), Greenshields Cowie played a significant role in protecting vulnerable people at risk of malarial infection by making available a potentially life-saving bed net. Throughout three separate contracts, Greenshields Cowie overcame many logistical challenges while maintaining operations, from evacuating staff during heightened security to redesigning delivery plans and routes to keep track of moving populations fleeing war.
The judges fully appreciated the immense difficulties in operating under such dangerous and challenging conditions. They were particularly impressed by the way in which the company was quick to adapt and react to the unpredictable operating environment and how they professionally saw to it that over 13 million people were given protection in a country where malaria is still endemic. The Award for Extreme Logistics went to Greenshields Cowie.
AWARD: LOGISTICS INNOVATION
Winner: Greene King with Kuehne + Nagel
Logistics is a core supply chain activity that requires creative thinking. Here the top two entries battling it out for the trophy for Logistics Innovation were Ted Baker with XPO Logistics and Greene King with Kuehne & Nagel.
The entry from Ted Baker with XPO Logistics was based on the retailer's new omni-channel European distribution centre in Derby, a site operated by its logistics service provider XPO, and the result of a major supply chain transformation from 13 sites to one central hub. As well as coping with the retailer's significant growth across channels, the fulfilment team have learnt to flex and adapt to the multi-faceted needs of the customer and the day-to-day volume fluctuations – including the huge pressures of Black Friday. The judges liked the way Ted Baker and XPO Logistics have collaborated closely to achieve significant benefits and a strong capability to plan and deliver a scaled response to demand. It was close, but not quite close enough.
Gaining a very high score from the judges was Greene King with Kuehne & Nagel. The entry was based on the results of a full strategic review of the business' supply chain following the acquisition of Spirit Pub Company. With a combined pub estate of around 1,900 pubs – which represents an increase in total pub numbers serviced by Kuehne & Nagel of more than 100 per cent, and a rise in annual distribution volume of 75 per cent – it was clear a complete restructuring of Greene King's national logistics network was necessary. Infrastructure improvements were made, including the fitting out of an additional non-food hub for northern operations, a new transport outbase for southern operations, along with one for Scottish operations too, and a restructuring of a southern RDC with the fitting out of a new frozen storage facility. Vehicle fleet improvements were also made, with the procurement of a new fuel-efficient fleet, including vehicle design upgrades to increase waste collection capacity – supporting Greene King's strategic sustainability objective of Zero Waste to landfill by 2020.
The judges were impressed with the speed and efficiency of the network transformation and delivery fleet upgrade, particularly so as the project was delivered on time and with no adverse impact on end customers. What's more, the reduction in weekly deliveries and collections from pubs nationally was estimated at over 5,000 deliveries as a direct result of the new network. These were strong results. There was little doubt that Greene King with Kuehne & Nagel deserved to win.
AWARD: ORDER PICKING INNOVATION
Winner: Crown Paints with Voiteq
With the boom in e-commerce, order picking is the process at the very heart of the modern warehouse. Hence the judges were keen to see the latest innovations.
The top two entries competing for the category prize were Vaillant UK with Avery Weigh-Tronix and Crown Paints with Voiteq.
Heating technology manufacturer Vaillant UK is keen to adopt innovative solutions. When inefficiencies in the warehouse picking operation resulted in staff in the boiler assembly area running out of components due to short or incorrect picks, the business took a clever and pragmatic approach to improving pick accuracy and inventory tracking. Working with Avery Weigh-Tronix the company introduced a mobile picking workstation that combined touch screen terminal, picking software, WMS integration software and a highly accurate scale for weight verification. As a result Vaillant UK has increased pick accuracy by 9 per cent, giving a 99.75 per cent minimum picking accuracy at the point of pick – eliminating costly assembly downtime. The judges thought this had great merit, but after some considerable deliberation, not quite enough to win.
Crown Paints wanted a system to direct operators through an optimised pallet-build process for each of their customer specific order picks. An eight-week pilot of Voiteq's VoiceMan Warehouse Execution System was successful in hitting a key proof of concept benchmark, generating a pre-determined double-digit productivity improvement while maintaining a high level of accuracy. The solution combined voice-directed working which would calculate the cubing requirements automatically, and direct operators through each task using spoken commands. The intelligent system use volumetric product data to automate and system-direct operatives through an optimised pallet-building process.
The flexibility to configure the pick route within VoiceMan produced additional gains as it enabled Voiteq to optimise the walk route for each picking operative. With the successful completion of the pilot, Crown Paints is now preparing for a nationwide rollout of the picking solution with the addition of SAP integration.
The judges could see significant improvements in productivity and appreciated the increased flexibility offered by the voice system. The judges considered the combination of pallet building and voice-direction as ground-breaking, offering clear business benefits. There was little doubt; Crown Paints with Voiteq was the winning entry.
AWARD: RETAIL INNOVATION
Winner: Ocado
Exciting developments in the retail supply chain continue to intrigue the judges. The entry from Sainsbury's Retail with Asset Solution & Entopy presented an innovative leap forward for asset tracking and supply chain visibility, however it was early days – so perhaps next year?
The two front-runners for the trophy were Tourvest with Relex Solutions and Ocado.
Tourvest Inflight Retail Services offers complete management of on-board retail activities for international airlines, serving some 48 million passengers on 286 routes globally. The big challenge for the business is retailing fresh food in an environment where space for stock is highly limited and there is little or no latitude to carry additional stock. Their entry focused on an overhaul of the business' forecasting and planning capabilities, to provide a better service for passengers while reducing waste and cost. The judges fully appreciated the complex and potentially industry-changing technology, with its machine learning forecasting and supply chain capabilities, but it had only been in operation for three months.
The winning entry came from Ocado. With compound growth of 15 per cent year-on-year, the business has an objective to continue to optimise the operational capacity of its current Customer Fulfilment Centres (CFCs). Being aware of the extra cost for suppliers in delivering to an expanding network of CFCs – opening two in 18 months – the retailer implemented as strategy to remove ambient couriers/vans from their CFCs, which was cost neutral/beneficial to suppliers. In addition, Ocado's supply chain team had to support the increase in inbound capacity at their CFCs while continuing to grow range.
Ocado developed an innovative idea of working with its primary haulier, PW Gates, to support not only the retailer but also the supplier and haulier, collaboratively working together to benefit the customer. The initiative has enabled Ocado to continue to extend its range while reducing costs for its small suppliers. The judges were impressed by the significant benefits that resulted from the project – improved cash flow for Ocado, its vendors and its haulier through better inventory management, reduced invoice discrepancies, and increased stock accuracy. What's more, turnaround time was reduced by 20 per cent and inbound capacity was increased substantially. The judges had no hesitation in giving the Award for Retail Innovation to Ocado.
THE FLEX AWARD FOR SUPPLY CHAIN INNOVATION
Winner: HP Inc
This was a strong category with seven entries meriting shortlisting. But, in the presentations there were three entries that stood out.
HP's entry focused on how global manufacturing is being digitally transformed with new technologies such as 3D printing, artificial intelligence, advanced robotics, and the Internet of Things. Among the bigger consequences of this seismic shift is the complete reinvention of product design, development, and distribution as it know it. HP is reinventing its own product lifecycle and supply chain with Multi Jet Fusion 3D printing technology, leveraging new competitive advantages that were previously unthinkable and helping change the way the world designs and creates.
The Sky and Unipart Logistics teams came up with an innovative solution to a technical challenge encountered when moving a software flashing operation from a single user site to a multi user site.
Wolseley has been working with XPO Logistics on s a number of projects to streamline the supply chain offering within the Wolseley UK network. Due to the extensive experience of "In Night" operations, XPO Logistics were appointed in to deliver a transformational project to transition Wolseley UK from a day time delivery service to a full "In Night" delivery solution to over 600 branches throughout the UK.
The scoring was very tight, but ultimately the judges decided that the Award should go the HP Inc.
AWARD: WAREHOUSE INITIATIVE
Winner: John Lewis Magna Park Campus
Here the judges were looking for a Warehouse Initiative that has made an exceptional contribution to the success of a business. And they found it. The top runners in this category were IMDAAD LLC and John Lewis Magna Park Campus.
IMMDAAD LLC is a Dubai-based company specialising in the highly competitive facilities management services market. The warehouse section of the company's procurement department implemented two strategic initiatives in 2017, store consolidation and mobile store implementation, which led to significant cost savings and improved operational efficiency. The business determined that merging the stock of the two sites would bring big savings. Furthermore, analysis of site operations revealed that several hours were being lost to teams through travelling each day to central stores to collect materials – some 160km both ways. The introduction of mobile stores made significant cost savings and improved operational performance. In fact, the combined savings from these two initiatives played an important part in the business winning a number of competitive tenders. The judges were impressed by the detailed work that had gone into both projects and so decided to Highly Commend IMMDAAD LLC.
However, there was a clear winner. The entry from John Lewis focused on the delivery of the business' Magna Park 2 facility with its highly automated and fully integrated hanging and flat fashion solution – previously fulfilled by a third party logistics provider. As a result, the retailer has been able to deliver improvements in customer proposition alongside efficiency gains and environmental benefits. The ability to consolidate these two product streams with non-fashion 'binnable' products has resulted in an annual reduction of over one million parcels despatched to customers. The benefits are considerable and include: an improved proposition for customers through reduced packaging, later cut-off times and flexible delivery and collection options; automation across the site has reduced manual labour requirements by 45 per cent. The benefits were clear to see and the metrics were there to support them – the judges had little hesitation in awarding the trophy for Warehouse Initiative to John Lewis Magna Park Campus.
THE CLIPPER LOGISTICS AWARD FOR SUPPLY CHAIN OPERATIONS
Winner: Princes Foods with CEVA Logistics
Supply Chain Operations are principally, what these awards are all about. Here the judges were looking for excellence in the planning and execution of a project. The top two highest scores in the category were Bridgnorth Aluminium and Princes Food with CEVA Logistics. Bridgnorth Aluminium is a £150 million turnover aluminium processing business. In 2014 the company decided to engage in a major expansion project to increase total plant output by over 50 per cent by 2019, an exercise that required the creation of a new manufacturing centre, duplicating facilities on site. A program of projects was setup, in conjunction with Quintiq, to implement weekly S&OP planning processes, a fully automated routing generator and a scheduling system for the sequencing and batching of the entire supply chain downstream of casting. The completed project offered significant benefits to the business in the form of substantially reduced lead-times for customers and increased visibility of resources from one integrated model. The judges felt this was a well planned project, delivered on-time and to budget.
However, the winning entry came from Princes Foods with CEVA Logistics. Princes Foods embarked on a major reworking of its warehousing and distribution operations in 2016 to consolidate its supply chain. All Princes Foods' warehousing and distribution was to be consolidated within two sites at Wisbech, the main port of entry for imported foods would switch from Liverpool to Felixstowe, and there was to be a rationalisation of Princes' warehousing and transport suppliers. The 18 month long project, orchestrated by Princes Foods and its logistics services supplier, CEVA Logistics, saw the transfer of around 30,000 pallets from another 3PL company in the North West to CEVA's Wisbech warehouses. Throughout the streamlining exercise there was zero impact on service, with significant cost benefits to both businesses. The resulting simplified route to market has delivered a reduced inventory for customers and has enabled a one-stop-shop for convenience, food service and industrial customers – by consolidating loads, drops have been reduced by 52 per cent for these customers.
There was plenty for the judges to like about this successful integration of two parallel supply chains – it was a well executed exercise with clearly defined objectives and achievable benefits. The judges scored them highly and awarded the trophy to Princes Foods with CEVA Logistics.
AWARD: TECHNOLOGY INNOVATION
Winner: Shell
Technology has the power to transform supply chains – indeed, where would they be without IT! The two leading entries in this category exemplify were technology has enabled supply chain transformation and those entries are: Employ Recruitment UK with Haul-it Nationwide and Shell.
Employ Recruitment UK supply drivers to large distribution companies. The business has gained huge efficiencies by collaborating with its clients to put their bookings through the Artifice portals from Haul-it Nationwide. The platform facilitates planning by offering full visibility of the driver, induction and assessment dates, individual KPIs and supplier KPIs and views of spend in real time. Quality improvements are evidenced in reduced costs, increased compliance and improved service. What impressed the judges was that the platform manages and automates checks on all current legislation. This was technology that could transform the sector, allowing end users to recruit pools of flexible workers in their area to service flexible demand and reduce costs. The judges really liked this entry, so they decided to Highly Commend them.
However, the trophy went to Shell with its compelling entry focused on the use of advanced analytics in inventory optimisation for spare parts and operating components. The energy company implemented its advanced Inventory Optimisation Tool for Assets (IOTA) in its upstream business in 2017 and downstream business in 2018. The result has been that inventory analysts across a broad geography can now review materials with updated inventory levels supporting on-time execution of maintenance schedules. Following trials IOTA is being rolled out globally. Across Shell's Gulf of Mexico assets, IOTA has delivered multi-million dollar savings to date and a range of benefits in terms of maintenance resource planning, dormant stock reduction, a shift to proactive inventory management and more accurate estimates of material arrival lead times. Importantly, now asset teams can make faster and more reliable decisions using historic data and analytics that prioritise safety, asset integrity and profitability. The judges were truly impressed by this major transformation project. One judge said, "Shell has unleashing the power of advanced analytics". The judges had little hesitation in awarding the trophy for Technology Innovation to Shell.
AWARD: SUPPLY CHAIN STRATEGY & DESIGN
Winner: Superdry
Retail's huge structural revolution offers fertile ground for searching out excellence in supply chain strategy & design. There were many high scoring entries in this category, such as from Co-op with Manhattan Associates and from Telefónica. However, two entries were exceptionally strong – Ted Baker with XPO Logistics and Superdry.
Over the last 18 months Ted Baker, a global lifestyle brand, has been on a journey entailing a warehouse build, system design, stock transition and embedding of streams, to stability, setting records and advancing service propositions. Working closely with its logistics service provider, XPO Logistics, the business has made a successful transition from thirteen ageing legacy warehouses to a single new European distribution hub in Derby. The site has grown from handling low-level volume to comfortably coping with 600k inbound and 600k outbound units per month, and up to one million units in and out in a peak month. For e-commerce orders next day cut-off went through a step change project to advance from 4pm to 10pm. The judges fully appreciated the scale of change and the very evident close partnership between Ted Baker and XPO Logistics, but they had a tough challenge – they were up against the Overall Winner. So the judges decided to Highly Commend them.
Superdry too is a high-profile global fashion brand. The business has engaged in a significant programme of enhancement to its worldwide supply chain network, encompassing five distribution centres, seven upstream consolidation centres across four contract logistics partners, and multiple vendors. Vendor compliance measures have been introduced, including carton labelling and barcoding, container utilisation has been boosted to upwards of 80 per cent, and five separate warehouses have been merged into one. A single stock pool is now in place and omni-channel picking is conducted simultaneously, speeding up processes and enhancing efficiency. Superdry has created strategic partners to facilitate more ambitious plans, which include the use of AI to analyse data for predicting demand trends. As one judge says, "The metrics speak for themselves": Picking productivity for e-commerce has increased by 40 per cent, e-commerce sales saw an uplift of 60 per cent within six months of go-live, online product availability has increased from around 300,000 units of stock to an impressive 3,500,000 and basket conversion has experienced a double digit percentage rise. All in all, this was an impressive performance, "they are continually evolving their strategy", say the judges. The trophy for Supply Chain Strategy & Design went to Superdry.
THE BLUJAY SOLUTIONS AWARD FOR SUPPLY CHAIN VISIBILITY
Winner: Keysight Technologies
Two entries stood out in this category. The Co-operative Group's Food logistics operation is notable for its complexity and scale so replacing the warehouse management system was a major challenge. It worked with Manhattan Associates on a class leading solution that would support business growth and innovation for the future. A key part of the project was delivering this solution to all of Co-ops 12 depots in short period of time.
Keysight Technologies manufactures hi-tech equipment for aerospace, automotive and communications using contractors across Asia and the US. This project not only achieved a faster, better and optimum way to create and use supply chain visibility, it can also be sustained and expanded on. The result has enabled supply chain to be a catalyst to boost its company's top and bottom line in the face of significant adversity such as a major wildfire in California.
The judges were unanimous that the award should go to Keysight Technologies.
AWARD: ROBOTICS INNOVATION
Winner: China Post with Beijing Geekplus Technology
Robotic technology is developing rapidly and not surprisingly the entries reflected this.
National Grid has introduced robotics to its inventory management improving both the quality and efficiency of its logistics operations. It demonstrated the value of the approach in terms of key performance indicators, and colleague satisfaction.
The Swisslog entry focused on the development of the ACPaQ robot-based palletisation solution. This delivers customised mixed pallets on an unprecedented scale, for individual stores from single-SKU pallets.
China Post's Wuhan distribution centre has used Geek+ to boost parcels sortation volume has exceeded 600,000 pcs per day. Geek+ is applying advanced robotics and AI technologies to realise high-flexibility and intelligent logistics automation solutions.
It's the first project in China that achieved full-function AGV intelligent sorting technology for the express industry, the first distribution centre to adopt 3D modules for collaborative operations, and simultaneous sorting of large to small sized parcels.
The award had to go to China Post with Geek+.
AWARD: SOURCING & PROCUREMENT
Winner: Turkcell
The Sourcing and Procurement category is traditionally very hard fought – and this year was no exception.
Vodafone's entry focused the promotion of new digital ways of working which have greatly improved the efficiency of its supply chain management operations thanks to several high standard solutions.
Pearson Education worked with Accenture to establish a Direct Procurement business unit as one of the five pillars in Pearson's new global supply chain organisation structure in 2017.
Pub company and brewer Greene King partnered with independent water management company Waterscan to pioneer a new approach to water procurement in this new market: self-supply. Water is procured directly from the wholesaler negating the need to go through an intermediary Retailer.
There were two entries from Turkcell. The first is an innovative procurement process based on Cosmic Function Point, enabling collaboration, co-innovation and trust between supplier and the company since it's an objective, transparent, visible and win-win approach. In the second, Turkcell's procurement team found that best-in class value added services in procurement processes depend on becoming an influencer. To achieve this, its transformation processes focused on "customer centricity" and "business contribution". Procurement has also trying to achieve best serving to its internal customers' needs and identifying better sources of supply.
The judges were particularly impressed by the entries from both Greene King and Turkcell. Ultimately, they decided that the Award should go to Turkcell.
THE UNIPART LOGISTICS AWARD FOR TEAM OF THE YEAR
Winner: Ted Baker with XPO Logistics
Every year the Awards highlight many examples of effective teamwork in the supply chain and this year was no exception. Five entries made the shortlist this year, but ultimately is was Ted Baker with XPO Logistics that took the Award. Ted Baker's distribution centre at Derby is a purpose-built omni-channel facility. Over the past 18 months the two partners have worked from a start-up entailing a warehouse build, system design, stock transition, and embedding of streams, to stability, setting records and advancing service propositions.
AWARD: RISING STAR
Winner: Kara Hughes, Sky plc