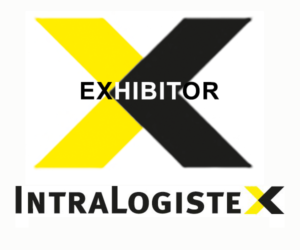 Many supply chain, logistics, operations and manufacturing leaders go home hoping nothing goes wrong in their operations. "But things do go wrong when there are people involved," insists Alfonso Gallardo, EMEA Sales Manager for Balyo, which is exhibiting at IntraLogisteX on 29th and 30th March 2022 (Stand 914). "It is inevitable," he adds. "Managing people is difficult – especially when we are making poorly qualified drivers deliver faster and faster."
Gallardo suggests this based on his own experience. "After a while in the industry," he continues, "I can confidently say that if I had a three-/four-shift manufacturing facility or warehouse operation, I would be letting humans do what they do best – using their brains – and automate all my standard and uniform flows, including storage and retrieval. There is no reason to have a person sitting on a forklift all day long, especially for high-growth facilities that can use that labour for other added-value processes."
Over the years, Gallardo has designed dozens of intralogistics mobile robot systems, from simple work-in-progress pallet deliveries to fully automated large warehouses. It's a simple equation for this robotics expert: the risks related to managing people dramatically decrease, operating costs drop, and logistics metrics improve when customers turn to robotics and automation.
"We want anyone who runs a three- or four-shift operation to know that they can replace their manual reach and VNA drivers [and costs]with our Storage Mobile Robots," he says. "We are seeing three- to four-shift operations achieve a 50-60% cost per pallet touch reduction every with our solution. And these robots can now lift up to 17m high in narrow aisles."
This, Gallardo notes, is important as supply chain and logistics leaders continue to grapple with speed of recruitment, quality, absenteeism, turnaround, and headcount cost. "There is a better solution for that," he reveals. "Split the workload. Let the robots perform the pallet transports of 100m, 200m, 300m plus that require long runs, and let humans do added-value work such as sorting, picking – anything that requires brainwork."
Just recently, Gallardo had the misfortune of witnessing a manual reach truck driver "squash" an expensive piece of medical care equipment on a pallet in between two other pallets, pushing the other two pallets aside. "As a provider of autonomous reach robots, I had to close my eyes and suggest to the customer that they consider replacing the storage and retrieval operation with precision machines that do not make the same mistake," he reveals.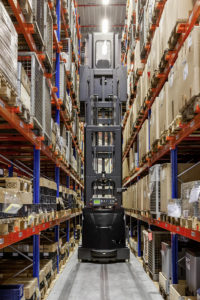 Managing a population of forklifts in a fast-paced operation is, Gallardo concedes, a "nightmare" but it is a "nightmare that we are all used to managing – it's familiar".
"Transforming a manual operation might sound risky at the beginning – unfamiliar. But companies that embrace Fork-lifted Mobile Robotics quickly understand that replacing the driver with an automated solution means significantly 'de-risking' their operations, making them more efficient, predictable, resilient, and safer."
Gallardo is pleased to see more and more companies choosing to automate their reach and VNA operations. "There are dozens of companies out there that can transport a pallet from point to point but very few that can deliver a pallet into a rack 12-17m high into a 1.8m aisle. Our full range of products can handle all operations – receiving (or end of line in manufacturing), inbound put-away and outbound staging."
It is well known in the sector that the quality of forklift drivers in the second and third shifts falls dramatically – misplacing pallets, damaging the product, as well as the warehouse equipment, etc. "We are seeing less and less patience with poor delivery quality caused by upstream stock performance damaging the supplier's brand," Gallardo reports. "Eliminating the human condition upstream has an incredible impact on downstream metrics, hence on customer satisfaction and reverse logistics costs."
A 'simple' decision such as replacing all inbound flows – and reorganising the warehouse operations to increase speed of fulfilment – can rapidly boost a warehouse's performance.
"If you fully automate your inbound operations with a mix of autonomous mobile pallet truck robots and reach robots, this practically eliminates the pallet misplacement in the warehouse, which means that the picking routes are truly optimised to reduce the time a picking operator spends walking or travelling, and maximises the time an operator spends picking. Translated into accuracy, picking operators will be less tired towards the end of their shifts and make less mistakes. Translated into cost improvements, reducing the average distance travelled by a picker by 25% means you need around 20% less pickers. Another no brainer or low-hanging fruit."
Gallardo also recommends that warehouse managers focus on a metric known as 'cost to serve'. "Using this metric, our customers have spotted and taken action on unprofitable labour-intensive flows and have reduced the cost per pallet transported by +50%, in the process saving +£1.5 million in three years."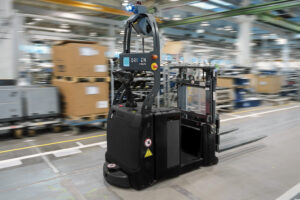 "Our recommendation is for companies to understand how fork-lifted mobile robotics fit in their operations," Gallardo concludes. "We call this the robotics journey. "I would advise you start with an operation that represents 75% of the material handling needs and flows inside their network of warehouses, and build a feasibility study (financial and technical) to understand the use cases for their specific operations. Make it scalable.
"This is how we help our customers evolve," Gallardo explains. "We have a very knowledgeable and consultative team powered by very strong simulation and support technology that helps us build a feasibility study for an entire warehouse in less than one month (at no cost) so that our customers can plan their three-year transformation from manual to autonomous."
Balyo currently works and partners with the top manufacturing, logistics and 3PL companies to collaboratively design a scalable, profitable and resilient robotics journey that Gallardo believes very few can match. "If anyone is thinking about automating their pallet-handling flows with a scientific and systematic approach, they would find a perfect match and satisfactory collaboration with us."
If you want to see Balyo's latest warehouse technology, make sure to register for the UK's best intralogistics show IntraLogisteX, and see them on stand 914!