Chicken supplier Banham Poultry has employed a routing and scheduling software solution from Paragon to replace its existing manual systems and centralise all day-to-day planning for its fleet of 34 commercial vehicles and team of 50 drivers.
The company also use the software to adapt and respond to changing customer and market demands.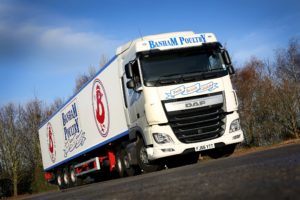 Banham's delivery operation transports more than a million birds each week, handling 30 daily collections from around 50 farms alongside 90 deliveries to retail and wholesale customers and multiple drops to eight distribution centres.
"We needed a solution that would simplify our planning processes as well as enable us to make informed business decisions," said Craig Riches, head of transport.
Paragon's solution will help reduce the time required to plan collections and deliveries and ensure efficient, achievable and compliant routes.
"Paragon's routing and scheduling software will allow us to bring together a huge amount of operational information into a single system," said Riches, "as well as providing a powerful strategic planning tool to support the ongoing growth of our business."