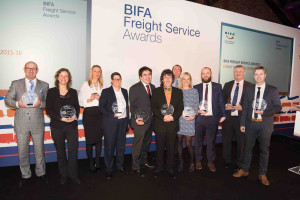 The winners of the BIFA Freight Service Awards 2015, hosted by BBC Radio 2 travel reporter Sally Boazman, have been revealed.
The winners and categories are as follows:
The finalists and winners in the 11 Awards categories were as follows:
The Project Forwarding Award
Winner: Greenshields Cowie & Co
The Specialist Services Award
Winner: Dynamic International Freight Services
The Staff Development Award
Winner: 512 (Sheffield)
The Supply Chain Management Award
Winner: The Woodland Group
The Sustainable Logistics Award
Winner: Unsworth Global Logistics
The Young Freight Forwarder Award
Winner: Liam Byrne of ACC Freight Management
The Air Cargo Services Award
Winner: Transglobal Freight Management
The European Logistics Award
Winner: PSL Freight
The Ocean Services Award
Winner: Panalpina World Transport
The Cool Award
Winner: Kuehne + Nagel
The Extra Mile Award
Winner: Moto Freight
Robert Keen, BIFA director general, said: "I know that every year BIFA members look forward to attending the Awards luncheon as I do. It has always been a great way to start a New Year in business.
"The luncheon represents more than just fine dining in a splendid location. It is also about conviviality and networking, cementing existing relationships between Members and guests, and making new ones. I congratulate every company and individual who took the time and trouble to enter our Freight Service Awards competition 2015."