Development of a new 212,771 sq ft distribution hub at Markham Vale North for German car components manufacturer Ferdinand Bilstein (UK) has been completed.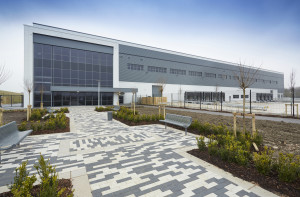 The hub, which is located in Derbyshire, is expected to be fully operational by early next year after an "extensive fit-out".
"We chose Markham Vale for its key location and immediate transport links which ultimately played a part in our decision to move here," said Paul Dodgson, operations director at Ferdinand Bilstein UK. "We are very impressed with the delivery of the unit to our very specific requirements, both in the lead time and the specification, and Henry Boot have delivered on this for us.
"Once the facility is up and running, it will become a major national hub for our UK business, allowing us to deliver an even quicker and quality client service, with later collection times and next day deliveries. We look forward to moving some of our key business operations to Markham Vale."
The site, which is the first unit to be completed at Markham Vale is to initially generate 150 jobs – a planned extension is expected to create a further 250 jobs.
The 145-acre site has been bought on a freehold basis.