Gerry McGovern, chief design officer for Land Rover, was keynote speaker at the 75th Anniversary celebration of the British Industrial Truck Association at the Jaguar Experience Centre in Castle Bromwich.
McGovern highlighted the importance of design in transforming the fortunes of Jaguar Land Rover as well as providing insights into the changing business climate.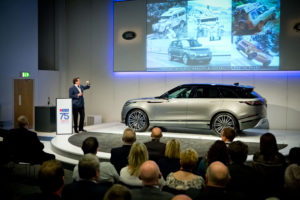 The event also included presentations from futurologist Dr Ian Pearson and Dr Howard Lightfoot, a leading exponent of servitisation.
BITA secretary-general James Clark focused on the importance of a strong trade association is in a changing business climate.
"Today's event is our opportunity to demonstrate to you that BITA is standing strong in the midst of these changing times and will sharpen its claws over the coming months and years to ensure it offers its members the guidance, advice, resource and opportunity befitting of its status as the UK's leading authority on all things forklift truck, whether that relates to their design, construction, purchase, distribution, conformation, operation, maintenance and – ultimately – disposal."