Value retailer B&M's 1 million sq ft mega hub in Bedford is due to go operational in Spring 2020 following a £30 million fit out.
The complex fit-out of the building, equivalent to 12 Premier League football pitches, has been delivered by UK-based Pentadel Project Management to meet B&M's rapid UK growth plan.
Pentadel has been working with B&M since January 2019.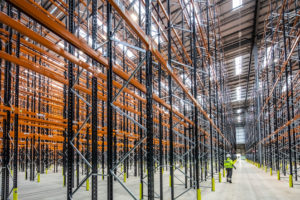 Phase 1 of the distribution hub's fit-out is now complete with final work due to finish in spring 2020, when the facility will go into full operation.
The superstructure, one of the UK's biggest buildings, incorporates vast state-of-the-art warehouse and distribution units including 160,000 cubic metres of freezer and chill storage, 500,000 cubic metres of pallet racking, three robotic shrink wrapper systems, a 2,500 sq m recycling area, as well as a bespoke IT system to ensure the efficient running of the whole facility.
More than 300 contractors worked on delivering the hub.
James Kemp, MD of Pentadel Project Management, said: "With over 600 stores up and down the UK and more in the pipeline, we have overseen the on-time delivery of a vast warehouse and distribution hub that offers B&M an efficient, agile and sustainable operation for current and future growth.
The value retailer registered a 21.4% increase in group revenue to £967.6 million during the period from March 31 to June 29 2019.