BMW Group has outlined its environmental strategy, with a clear target on making the company's logistics operations 'more sustainable'.
The group has set itself a clear milestone to 'reduce CO2 emissions throughout a vehicle's entire value chain, from resources to recycling, by 40% from 2019 levels by 2030'. Logistics plays a significant role in the value chain so BMW is exploring different ways to make this part of the business more sustainable.
The BMW iFactory is the group's strategy for 'production of tomorrow', which intends to improve processes by making them more 'lean', 'green', and 'digital'. Part of this includes investment in new technological innovations that BMW Group deems necessary for a sustainable future.
One way BMW intends to make its transport logistics more efficient is by closely assessing the location of its facilities. By keeping plants close together and strategically locating production sites near customers, costs and emissions can be kept down.
The group sees green hydrogen as 'the fuel of the future' and its plant in Leipzig is already using industrial trucks powered by fuel cells.
The plant is also home to Germany's first indoor hydrogen filling station, which has five stations for 'refuelling forklift trucks and tugger trains used in intralogistics', the newest of which is capable of carrying out fully-automated filling processes.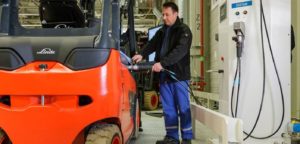 Another aspect of BMW's sustainable logistics strategy is a focus on improving its packaging logistics. It is addressing this by increasing its use of recycled materials. It increased its recycling rate by around 15% in 2022 and has begun pilot runs of packaging made out of 100% recycled materials. Furthermore, it has eliminated the use of protective film in vehicle transportation and will use collapsable plastic containers made from over 90% recycled materials instead of steel lattice boxes in its logistics operations.
Karl-Friedrich Koch, who is responsible for all BMW Group's logistics planning, said: "With its focus on transport, packaging and intralogistics, logistics has huge potential to make a valuable contribution to the BMW Group's sustainability goals."