BMW Group has test trialled an Iveco LNG-powered truck for its logistics operations. The car manufacturer tested Iveco's Stralis NP, the first natural gas truck designed for long-haul transport in the industry.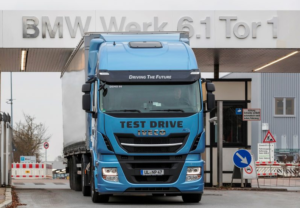 Dr Thomas Irrenhauser, who supervised the pilot operation on behalf of BMW said that LNG is a "reasonable, sustainable alternative to conventional diesel" in the long term.
Pierre Labutte, Iveco brand president, said:"We are very proud that BMW has taken in IVECO's vision of the future of the sector, with natural gas being the next step towards sustainability. We are seeing a fast growing number of international manufacturers and logistics operators opting for LNG for their transport requirements.