Online fashion retailer boohoo has joined a number of businesses setting up emergency funds to pay suppliers affected by the economic slowdown of the Covid-19 pandemic.
Boohoo told investors that it was "standing alongside our suppliers, continuing to pay them promptly with industry-leading payment terms for all of their orders".
It revealed it had set up an emergency fund to "help suppliers through this difficult period" but did not specifiy the size and scope of the fund available.
Boohoo said that by continuing to support suppliers through  short-term challenges, it would "further secure these relationships for the long-term".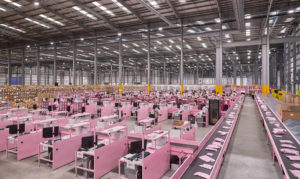 Chief executive John Lyttle said: "Whilst recent events have understandably overshadowed what has been a great year for boohoo, they have also highlighted its key strengths. Our business is founded on our ability to be agile and flexible and it is at times like this when these abilities are tested, and I am proud of how our colleagues and business partners from around the world have responded to the challenges posed by this pandemic.
"Although there is near-term uncertainty in the markets that we operate in, the group is underpinned by its incredibly strong balance sheet and is well-placed to leverage its scalable multi-brand platform and to continue to disrupt fashion markets around the world."
Boohoo operates through two distribution centres: its Burnley facility services all group brands except PrettyLittleThing; and the Sheffield facility, which is managed by a third-party, services PrettyLittleThing. BS Handling Systems completed a sortation project for PrettyLittleThing in Sheffield last year.
Boohoo said that automation at the Burnley warehouse went live in April 2019 and had been "instrumental in improving and increasing efficiency throughout, enabling the facility to handle the rapid growth of the group and maintain high customer service levels".
It revealed that phase 2 of the automation at Burnley is planned to commence in the first half of the 2021 financial year "further boosting the peak load capacity to ensure we continue our great customer service".
Boohoo said that both facilities would give it the scale and capacity required in the medium term as the group develops.