Truck traffic through the Channel Tunnel fell 12 per cent in April as companies destocked in the wake of the delay to Brexit.
Figures from Getlink show that the number of trucks fell to 119,563 in April 2019 from 135,341 the year before.
Getlink said: "The stockpiling seen in January, February and March has been compensated by the reduction of stock levels for non-perishable goods in April.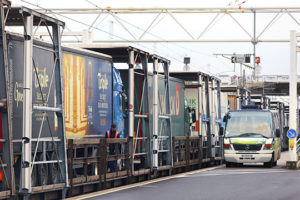 At the same time, several car plants brought forward their annual shutdowns, normally held in August, to April, again limiting the associated delivery requirements. This "unique seasonality" was also compounded by the impact of striking French customs officers."
Nevertheless, for the first four months of the year the number of trucks using the tunnel was 559,575 – marginally up on last year.