A 580,000 sq ft speculative scheme is being developed in Bristol – the largest speculative warehouse scheme in the region for two decades.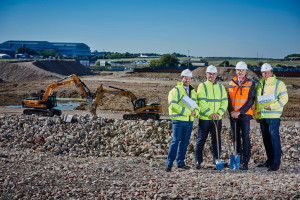 St Francis Group and iSec are building the first phase of a 1 million sq ft mixed use development at the former Rolls-Royce East Works site in Filton to be known as Horizon 38.
The joint venture has broken ground on the 65 acre £120 million business park and it is expected that in this first phase of development a range of new industrial and distribution units will be ready and available for occupation by as early as July next year.
Gareth Williams, development director at St Francis Group, said: "This is an exciting phase of development. With the entire site now cleared and levelled you can clearly see the scale of development proposed at Horizon 38. It is the first major employment scheme to come out of the ground in north Bristol for 20 years.
"For a long time local occupiers have struggled with little or no available stock. That's all about to change now with the development at Horizon 38."
The development of 580,000 sq ft of industrial employment space is being built in four phases and funded by BP Pension Fund. Horizon38 will consist of 27 units, with the first delivery of completed logistics and manufacturing space coming on stream in the summer of 2017 with later phases completed in 2018.
Horizon 38 fronts onto the A38 in Filton near the former Filton airfield, Airbus and Rolls-Royce Engines manufacturing plants. It sits within the Filton Enterprise Area; just three miles from Bristol city centre and less than 2 miles from the M5 motorway.
Giles Weir of JLL, joint letting agent on the development together with Paul Hobbs of GVA, said: 'The location is fantastic and the product will be of the highest quality so we are not surprised that initial levels of interest have been strong from industrial, logistics and trade occupiers alike. The Bristol market is in need of new stock in all sizes ranges so having units from 3,800 – 115,000 sq ft makes Horizon38 the perfect solution.'