The number of exported British-built commercial vehicles increased by more than a third in 2015, according to the Society of Motor Manufacturers and Traders (SMMT). Of the 94,479 CVs made in the UK, 47,052 were exported in 2015 alone – an increase of 34.7 per cent on the previous year.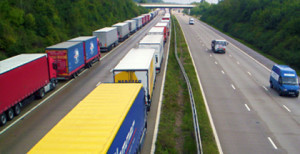 The SMMT figures demonstrate that almost nine out of ten, or 88 per cent of exported CVs are sent to EU countries.
The SMMT said that the figures are a further indication of the recovery of the UK's CV sector, and added that this is driven by resurgent European markets, where new registrations grew by 12.4 per cent last year.
"British-built vans, trucks and buses are playing an increasing role in the global economy, with vehicles being sent to countries on every continent," said Mike Hawes, SMMT chief executive. "The growth in overseas demand for high quality commercials is a huge credit to Britain's commercial vehicles makers, and serves as a timely reminder of the EU's vital important as a trading partner to UK Automotive."