Brittany Ferries launch Bilbao service
Brittany Ferries has chartered a freight vessel between Poole in Dorset, and Bilbao in northern Spain. The ro-ro ship, named Pelican, and has the capacity for about 100 unaccompanied trailers and 12 drivers.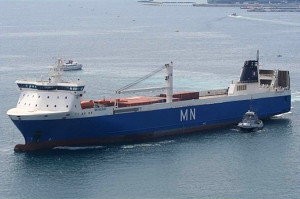 It will begin service with Brittany Ferries in early February running two round trips a week.
"Freight activity to and from the United Kingdom is undergoing a period of strong growth, particularly the unaccompanied market," said Simon Wagstaff, Brittany Ferries' freight director. "We see this on a daily basis in the garages of our vessels, especially on those operating to and from Spain. Our charter of Pelican will help us meet growing demand from freight customers and free up more garage space on other ships."
"There is a very limited charter market for this type of vessel and we were delighted to find a cost-effective vessel on the French International Register," added Simon Wagstaff. "This will allow us to operate effectively, but also to balance the books in this important area of our activity."