Proposals for a build-to-suit mega shed for an as yet unnamed occupier have been put forward by Segro for a 33.66-acre plot at its 6 million sq ft East Midlands Gateway Scheme in Leicestershire.
A full application has been submitted to North West Leicestershire Council for a facility just shy of 700,000 sq ft on Plot 12.
Designed by pHp Architects, the building will consist of a 669,608 sq ft distribution warehouse, a 20,000 sq ft two-storey office and a 5,000 sq ft transport hub.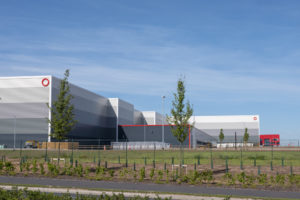 The building will also be extremely tall topping out at 36.3m and it is this, which is the most controversial aspect of the proposals as building height at EMG had been accepted at 20.5m.
In the application it argues for the increased eaves height noting: "The High Bay area is an essential and integral component of the building's design and function. It enables the unit to provide a temperature controlled storage area, which is vital for the goods proposed to be located within the warehouse.
"The proposed warehouse will form a strategic multi-user warehouse. The occupier's original scope was to create three warehouses: one to be located in the South with two in the Midlands. However, by increasing the capacity at EMG, through the delivery of the High Bay area, the need for the third warehouse, elsewhere in the Midlands, has been eliminated, effectively bringing the economic benefits of two units to North West Leicestershire.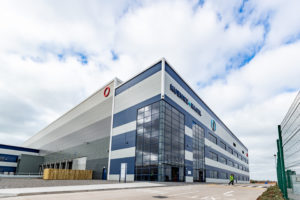 "The additional space gained by the High Bay area will enable the occupier to increase the number of customers at the facility, which, in turn, will provide a diverse workforce which will increase productivity on the site."
The facility will have 474 car parking spaces and 121 HGV spaces. There will be 43 dock with nine double dock doors as well as eight level access doors. It will be built to BREEAM Very Good.
SEGRO has not named the potential occupier or how many jobs would be created.
It is hoped that construction would start in late 2020 with completion set for the first quarter of 2022.
Current occupiers of East Midlands Gateway include Amazon, Very, XPO Logistics and Kuenne+Nagel with a Games Workshop unit currently under construction.
Planners for SEGRO note: "The jobs provided through the development will be extremely important, particularly in the context of the current economic (and social) circumstances.
"When we emerge from the current situation, the economy will need to be 'kick started' and development providing employment benefits will play a key role in boosting the economy and getting the country back on its feet again."