Logistics company C M Downton has won a three-year, £12 million renewal contract with aluminium extrusion producer Sapa Profiles UK.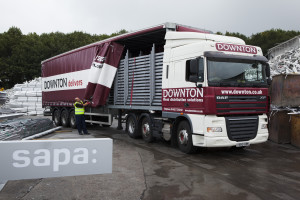 It will continue to run the company's national distribution, delivering from Cheltenham, Tibshelf, Redditch and Birtley. The logistics company also runs an inter-site transfer operation, as well as handling shunting at three of the main sites.
The new contract will see Downton increasing its operational support team – seven members of staff will now operate out of three of Sapa's facilities.
"Sapa Profiles UK has been a key Downton client for over six years," said Andy Downton, managing director of Downton. "It is a successful partnership that has strengthened with every passing year. We are extremely pleased to be continuing and extending the contract, and look forward to working with Sapa for many years to come."
Yann Beck, managing director of Sapa Profiles UK Ltd, said:
"In an environment of constant challenging needs, it is imperative that Sapa's transport partner be flexible and proactive, with on-time delivery and customer service remaining at the forefront of our core business.
"The Downton team has continually delivered an exceptional service where they are often the face of our business when the customer is in receipt of goods. The dynamic relationship and shared business knowledge gives us the confidence that our logistics operation is in the right hands."