Campaign group Fashion Revolution has found brands are failing to be fully transparent when it comes to working conditions in tier two and tier three suppliers.
Fashion Revolution conducted a survey of 62 fashion brands and found that just 31% had disclosed at least some of the textile production sites in their supply chains.
Some 46 brands, including Arcadia (Topshop), ASOS, Marks & Spencer, and Tesco, had disclosed tier one manufacturers.
However, only 23 brands had partially disclosed a list of processing facilities where printing, dyeing, laundering, and embroidery takes place, while 18 had partially disclosed the supplies carrying out textile spinning, knitting and weaving.
And only one brand is disclosing a list of all their textile production sites.
The survey found that companies including Boohoo, Fashion Nova, Ralph Lauren, and The Children's Place, disclosed no information about how and where their clothing was produced.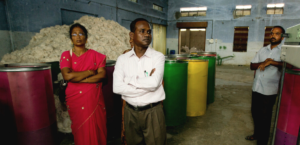 The report said that transparency beyond tier one is important because "supply chains in the global garment and textiles industry are long, complex, fragmented, and notoriously opaque.
"This is a problem because fragmented and opaque supply chains can allow exploitative and unsafe working conditions to thrive while obscuring who has the responsibility and power to redress them."
The report highlighted the conditions workers often face in tier two and tier three, when production was outsourced to countries like China, India, and Brazil. Fashion Revolution said that workers often faced low pay, lack of social security, sexual and physical violence, and exploitation of migrant status.
Fashion Revolution is calling on companies to be more transparent with what goes on in tier two and tier three, with its Tamil Nadu Declaration, which expands supply chain transparency to all clothing manufacturing facilities in their global supply chains.