A campaign group comprising of some 35 UK manufacturers have called for an "aggressive" reshoring of supply chains in the UK in the wake of the Covid-19 pandemic.
UK Manufacturing Unite includes members such as Hutchinson Engineering, MJ Allen Group and Zeal Electronics and is calling for collaboration among manufacturers to to 'build economic stability , start to grow back GDP and increase UK productivity'.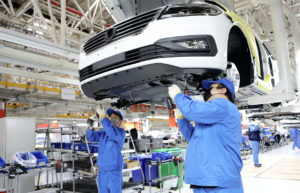 Tony Hague, chief executive of PP Control & Automation (PPC&A), said: "Why has so much production been offshored to places with cheaper manual labour? In the UK, we know how to build highly automated factories and there is little doubt this approach would create lots of higher paying jobs, raising UK productivity to the levels we crave.
"Better still, gleaming state-of-the-art factories are capable of producing every conceivable kind of product at the highest levels of quality and at a competitive price, exactly the type of key goods we offshored and are now trying to secure.
An agile and competitive supply chain model
"Reshoring activities could create huge and sustainable wealth for the UK economy; it won't be easy, but now is the perfect time for full throttle, unapologetic and uncompromising political support for aggressive investment in new products, in new industries and in new factories.
"The aim should be to create an agile and competitive supply chain model that supports an aggressive reshoring strategy, which, in turn, provides productivity and GDP growth."
Meanwhile Make UK has called for increased direct financial support from government for manufacturing industries with "very long supply chains" including aerospace, automotive and steel sectors.
Make UK chief executive Stephen Phipson said: "These companies are in key strategic sectors for the UK internationally and provide substantial numbers of highly skilled jobs across the UK and down through their supply chains.
"Government needs to intervene to ensure they have access to capital not only to be able to service the debt, but also to grow in the future."

The 24th Supply Chain Excellence Awards, with new categories for 2020 – including the Manufacturing Supply Chain Excellence Award – will take place on 12 November. For more information, including how to enter and sponsorship opportunities, contact daniel.jessop@akabomedia.co.uk