Lorries hit rail bridges five times a day, according to Network Rail, which has launched a 'bridge bash' campaign aimed at fleet operators and drivers.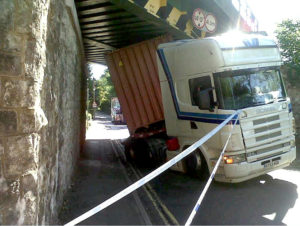 October and November are the peak periods for bridge strikes with up to ten incidents being reported each day.
Network Rail calculates that the 2,000 incidents each year cost some £23 million in damages and delays.
On average, each bridge strike costs £13,500 and causes two hours of delays to train services, according the Network Rail's research.
It also found that 43 per cent of lorry drivers admit to not knowing the size of their vehicle, and 52 per cent of drivers admit to not taking low bridges into account when planning their journeys.
Network Rail chairman Sir Peter Hendy said: "Size does matter when you're a professional driver in a heavy vehicle. Not knowing the size of your vehicle or load could lead to a serious accident, and the loss of your licence.
"Every incident creates potential delay for tens of thousands of passengers and potential costs for taxpayers, and this is happening multiple times a day.
"It's only a matter of time before road or rail users are killed as a result of this carelessness; we need professional HGV drivers and their operator employers to get behind and support this campaign to eradicate bridge bashing, which reaches epidemic levels at this time of year."
The most bashed bridge in Britain, Stuntney Road bridge in Ely, Cambridgeshire has been hit 113 times since 2009.
Kenworthy Road bridge in Homerton, comes a close second with 99 strikes in the last eight years and third a bridge on Thurlow Park Road in Tulse Hill which has also been struck 92 times.
As part of the campaign Network Rail will include:
* Engaging the haulage and public transport industries
* Fitting steel beams on rail bridges where there are a large number of strikes to reduce the impact, resulting in less damage to infrastructure
* Working with local authorities to ensure road signs displaying bridge heights are correct and up to date
* Calling for stricter enforcement of penalties for drivers when strikes do happen.