Evolution Time Critical, the emergency logistics specialist, has been taken over by Metro Supply Chain Group, a privately-owned Canadian company.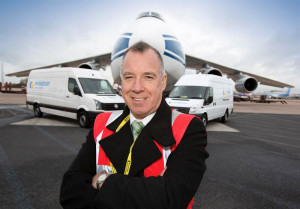 "The acquisition of Evolution Time Critical is a crucial development for Metro Supply Chain Group," says Chiko Nanji, chief executive officer of Metro Supply Chain Group. "It clearly signals our intention to accelerate the provision of increasingly comprehensive supply chain solutions for our customers and also supports our strategy for long-term business growth."
Evolution Time Critical, which focuses on the automotive and industrial markets, will remain headquartered in the UK with the existing management team and dedicated specialists providing the same award-recognised logistics solutions. Operations will also continue at Evolution Time Critical Deutschland, the company's service hub in Dusseldorf, Germany.
"We are extremely excited by the opportunities afforded by Metro Supply Chain Group backing for Evolution Time Critical; a broadening capacity will ensure that the safety net protecting automotive and industrial services supply chain operations has never been as flexibly robust," said Brad Brennan, managing director of Evolution Time Critical.
"We are proud of our proven track record for crisis aversion and supply chain safeguarding, and now have the platform from which to expand our capabilities to fulfil long-term ambitions. Increasing our North American presence will benefit our customers and help to achieve sustained business growth and a globalised footprint for Metro Supply Chain Group."
The Canadian company, which is based in on the outskirts of Toronto, has been established for over 40 years, and its existing European resources will help broaden Evolution Time Critical's capability: provision of enhanced warehousing and stock control systems will allow the automotive industry to benefit from an evolving emergency logistics capability that is able to provide a wider range of solutions than ever before.
"Metro Supply Chain Group operates over 12 million square feet of warehousing that we will be able to make strategic use of, for example, but beyond enhanced physical capabilities we will also be able to further develop the support infrastructure of our UK headquarters – including IT and transport management systems – to provide a truly multimodal service to our growing customer network. We can also commit to providing a greater number of large-scale solutions, such as the movement of vehicle tooling or live production," said Brennan.