The Cartwright Group has delivered a specialist aircraft ground support vehicle to transport cleaning teams onto aircrafts on the tarmac for the cleaning of cabins between flights at Manchester Airport, following its acquisition of Emtek Services last year.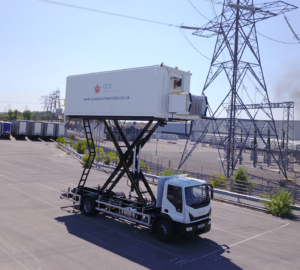 The scissor lift vehicle is based on an Iveco Eurocargo 18 tonne chassis and can lift cleaning crews to aircraft doors up to a height of 6 metres.
Cartwright aims to build on Emtek's reputation for the manufacture and delivery of ground service equipment for airport service providers across the globe.
"This is an exciting new venture for Cartwright and a great fit with our pedigree of innovative engineering design and manufacturing," said managing director Mark Cartwright. "Cartwright GSE will play a significant role in our exporting strategy and expansion plans and continue to develop a reputation across the globe."