Cartwright has built a new machine carrier trailer for powered access platforms provider JMC Scotland.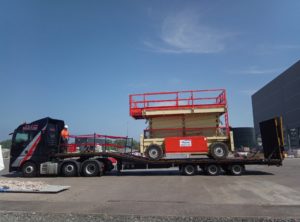 The trailer has a ventilated Beavertail design to improve aerodynamics and limit and improve fuel economy. It features a full wide ramp which enables a variety of equipment to be carried and has a twin-hydraulic folding arrangement that lowers to an acute angle so that vehicles with low ground clearance can be easily loaded.
"We are happy with the quality and we have had all sorts on it including agricultural equipment, plant and forklifts. I haven't come up against anything we can't have on it," said JMC Scotland managing director John Craig.