CEVA Logistics has opened a new, 215,800 sq ft shared-user warehouse at the new iPort intermodal logistics park near Doncaster. The site includes very narrow aisle and gravity fed racking.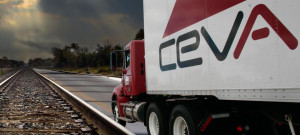 The facility is able to handle 28,000 pallets, is adjacent to a 35-acre rail terminal, and provides parking bays for 110 HGVs in a 55-metre yard.
The warehouse will be used for a number of consumer and retail customers, where the company will offer warehousing, planning, transport administration, customized value-added services and cross-docking functions from iPort. It will start by running 24/6.
"iPort gives us great access to the whole of the north of the UK enabling us to receive and deliver to customers in timely fashion," said CEVA's executive vice president UK, Ireland and Nordics, Michael O'Donoghue.