Chancerygate completed four industrial developments worth £48.5 million and totalling 282,400 sq ft in Sidcup, Hemel Hempstead, Poole and Rochester, two of which have been forward sold to M&G Real Estate.
The Klinger Industrial Park in Sidcup features 117,000 sq ft of multi-unit industrial and warehousing space on a 6.7-acre site worth £21.5 million.
It includes the former Klinger factory, which has undergone a two million refurbishment project and is pre-sold to Titan Storage Solutions.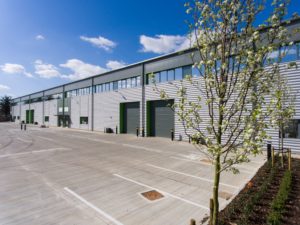 The Sidcup development also provides 14 new industrial and warehouse units across 117,000 sq ft forward sold to M&G Real Estate prior to construction. Halfords and Sally Beauty have already committed to the new units.
Spring Park in Hemel Hempstead is £8 million development comprising six units totalling 40,500 sq ft on a 2.2-acre site. It has also been forward sold to M&G Real Estate during the construction phase
The Horizon Park in Poole is a £12 million development offering 11 warehouse and industrial units totalling 86,000 sq ft on a 3.7-acre scheme offering. 55 per cent of the scheme is under offer or pre-sold. Occupiers include Titan Storage Solutions, The Silver Crane Co. and independent book retailer Bookends.
M2M Park in Rochester is a £7 million development featuring 11 warehouse and industrial units totalling 38,900 sq ft. Over half of the development is occupied by businesses such as trade kitchen supplier Howdens, Pyramid Engineering Services and water pump distributor Pumps UK.
Chancerygate managing director, Richard Bains, said: "We are very pleased to have achieved practical completion of a further four schemes providing much needed Grade A accommodation into under supplied markets.