SF Express, China's second largest courier, is taking its first steps in the UK with the announcement that it is taking a 90,000 sq ft warehouse at GLP's G-Park Northampton site in the East Midlands.
The leasing of Unit 2 marks SF Express' first UK Distribution Centre and will form part of its expanding Supply Chain overseas strategy.
G-Park Northampton is located within Moulton Park and comprises three units and one build-to-suit logistics warehouse ranging in size from 50,350 sq ft to 155,227 sq ft. Unit 2 totals 90,645 sq ft and has 15m clear height. It has 10 dock and four level access doors as well as 8,000sq ft of two storey offices. Letting agents on the scheme are Burbage Realty and Equation Properties.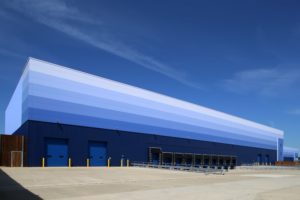 Simon Truss, General Manager for Western Europe at SF Express, said: "The facility will focus on National Distribution for our high value products, and as such will be fitted out to a very high standard."
The Chinese delivery services company is based in Shenzhen, Guangdong. It is the second largest courier in China, and provides domestic and international express delivery. It has a fleet of 60 cargo aircrafts, and at the time of writing operates six flights per week from Germany and Belgium to China using B747's owned by its subsidiary SF Airlines.
SF Express (Europe) is the company's European subsidiary and provides Express, Logistics, Supply Chain and E-Commerce services from its own offices in the UK, Germany, Netherlands, Belgium and partners across the continent. GLP has delivered over 5.4 million sq ft of logistics space for SF Express in China, making them one of GLP's largest customers in China.