The latest batch of trading statements for the Christmas period highlight the different approaches adopted by retail giants John Lewis and Marks & Spencer.
John Lewis chose to maintain competitive prices, saw sales rise but warned that margins would be hit. In contrast, Marks & Spencer refused to participate in Black Friday discounting, but saw sales in general merchandise fall.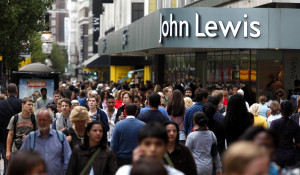 John Lewis bucked the trend in general merchandise and fashion reporting a rise in gross sales of 3.6 per cent (3.1 per cent on a like-of-like basis) for the six weeks to 30th December. It reckons it outperformed the market by 4.5 per cent.
Waitrose gross sales were up 1.4 per cent (1.5 per cent on a like-of-like basis)
However, chairman Sir Charlie Mayfield said pressure on margins had intensified and the group's decision to maintain competitive prices despite higher costs would negatively affect the full year results.
Black Friday was John Lewis's most successful sales day in its history and contributed to the biggest ever week of sales, up 7.2 per cent year-on-year. Some 65.5 per cent of John Lewis Click & collect sales collected from Waitrose stores, an increase of 0.9 percentage points on last year.
Tesco performed strongly with a 3.4 per cent increase in life-for-like sales in food in the 19 weeks to 6th January. However, it said this was offset by on-going drag from general merchandise and lost tobacco sales due to Palmer & Harvey integrations. Overall, like-for-like sales were up 2.3 per cent.
Chief executive Dave Lewis said: "Incorporating Palmer & Harvey volumes and complexity during this peak period was challenging, resulting in lost tobacco sales across December and putting further strain into our distribution network, particularly post-Christmas. While I am pleased to say these challenges have now been resolved, they took the shine off an otherwise outstanding performance for the period as a whole."
Its online grocery business had a record Christmas with five per cent sales growth.
Following CMA clearance of its merger with Booker, Tesco plans to publish its prospectus for the deal in early February, with completion of the deal in early March.
Marks & Spencer struggled in its clothing and home business with l sales down 2.3 per cent in the 13 weeks to 30th December. The retailer did not participate in Black Friday to hold its full price stance despite the competitive market. "However, the impact of an unseasonal October resulted in an overall revenue decline. As a result, we carried more stock into the December sale," it said in its trading statement. "International revenue was down, reflecting the completion of the planned closure of owned stores in loss-making markets."
M&S food sales were up 3.6 per cent, though like-for-like sales were down 0.4 per cent. Sales through M&S.com were up 3 per cent.