The City Transport & Traffic Innovation (CiTTi) Exhibition opens today at the MK Arena, Milton Keynes.

The CiTTi exhibition will explore how innovations within traffic and transport help the movement of people and goods through an urban environment safely and efficiently.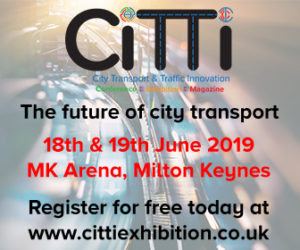 Solutions on show will include ridesharing, last-mile solutions, vehicle charging, electric bikes, radar solutions, fleet and vehicle optimising platforms, MaaS solutions, mobile devices and many more.
Visitors will have the opportunity to discuss and view all the solutions on offer, including live demonstrations of cutting-edge technology, informative free conference streams and the chance to strike up conversation with the minds behind the latest traffic and transport innovations.
Exhibitors include: ViaVan, AppyParking, Bestmile, Fleetonomy, Gnewt with Mayor of London, DOVU, Shotl, Stuart Delivery, Tomorrow's Journey and many more.
The exhibition and conference takes place today at tomorrow. See the full exhibitor list here.