CitySprint is to trial a new hydrogen van with its client Mitie in London.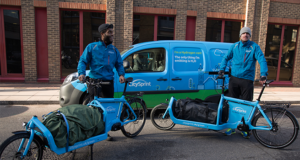 The trial is part of its ambition to have a completely emission-free fleet in London by 2020. The vans, developed in partnership with Renault, are to be trialled on distribution work for Mitie over the next six months.
"Since the launch of our green fleet this August, we've already cut back on our CO2 emissions by as much as 10 tonnes," said chief executive Patrick Gallagher.
"The trail of a hydrogen van is on a long list of environmentally friendly vehicles we have tested over the years. We hope that along with our growing cargo bike fleet, this can prove to be a sustainable option and continue our commitment to reducing air pollution across the UK cities we operate in."
Richard Bartkow, commercial and supply chain director for Mitie's document management business, said: "Not only is this hydrogen van new for Mitie, it's a first for the courier services industry too. We continually look to new and emerging technologies as our business evolves and offering this service is just one of the many ways we can support both our developing client needs and ensure our courier services are environmentally sustainable."